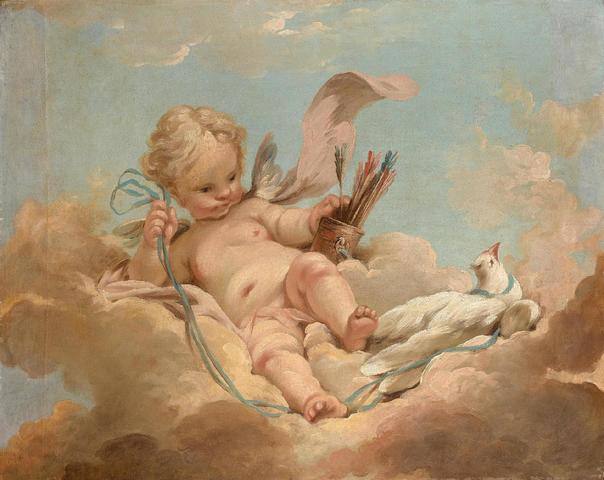 Sequana auctioneer in collaboration with our experts specialized in free valuation and free appraisal Authenticite will auction on the 28 January in Rouen, a painting by Fragonard.
Attribué à Jean-Honoré FRAGONARD (Grasse 1732 - Paris 1806)
L'amour en sentinelle
Toile agrandie à gauche 65 x 81 cm
Exposition : Three Masters of French Rococo avec un pendant, l'amour Provenance : chez Pardo, Paris, en 1990 avec un pendant L'amour vainqueur - Vente Cheverny, Me RouiIllac (avec un pendant), 31 mai 1997, n°74. - Collection particulière, Normandie Exposition : Three masters of French Rococo: Boucher, Fragonard, Lancret, Tokyo-Osaka-Yokohama, 1990, reproduits en couleurs n° 38 et 39.
Patrice Marandel a attribué nos deux tableaux à Fragonard: ils auraient été exécutés pour la décoration d'un hôtel parisien vers 1770. L'Amour vainqueur peut en particulier être comparé à un autre putto, dans une position similaire, figurant sur un panneau du salon du graveur Gilles Demarteau (Paris, Musée Carnavalet). Il est intéressant de comparer ces deux œuvres à deux petits projets de composition murale à la plume et lavis brun sur esquisse représentant l'Architecture et la Poésie (Besançon, Musée des Beaux-Arts, voir J.-P. Cuzin, Fragonard, vie et œuvre, Paris, 1988, reproduit n° 171).
Estimate: 3,000/4,000 euros

Send this article to a friend