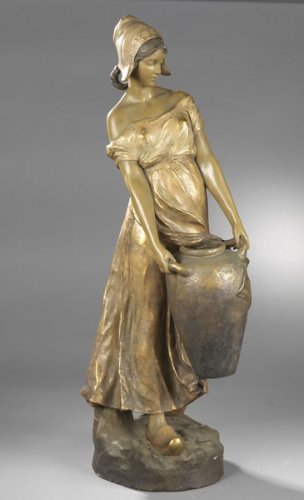 Philocale auctioneer in collaboration with our experts specialized in free valuation and free appraisal Authenticite auctioned a terracotta sculpture signed Goldscheider.
GOLDSCHEIDER
La Laitière
Épreuve en terre cuite polychrome et dorée.
Au dos: cachet d'éditeur et numéro : «2584 80 67».
Vienne, après 1900
H. 75 cm L. 19 cm P. 27 cm.

Note :
La société Goldscheider participe à l'exposition universelle de Paris en 1889 et forte de son succès ouvre des succursales à Paris, Florence, Leipzig, New York.
Estimate: 600/900 euros
Sold for 1,300 euros

Send this article to a friend