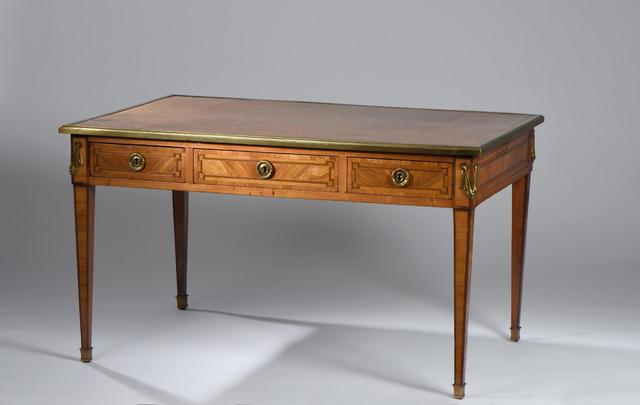 Sequana auctioneer in collaboration with our experts specialized in free valuation and free appraisal Authenticite will auction on the 28 January in Rouen, a Louis XVI parquetry desk stamped Cordié.
Bureau plat toutes faces
en placage de bois de rose dans des encadrements d'amarante formant grecques, ouvrant par trois tiroirs en ceinture et deux tirettes écritoires latérales, reposant sur quatre pieds fuselés en gaine. Belle ornementation de bronzes ciselés et dorés tels que chutes en drapés, lingotière, anneaux de tirage formant entrées de serrure et sabots.
Estampille G Cordie et JME.
Epoque Louis XVI
(restaurations et légers manques, probablement réduit en largeur)
Le plateau foncé de cuir fauve. H_74 cm - L_130 cm - P_89 cm
A LOUIS XVI PARQUETRY DESK STAMPED G CORDIE.
Note :
Cordié Guillaume (1725-1785), reçu maitre ébéniste le 18 juin 1766. Notre bureau est tout à fait exceptionnel dans la production de cet ébéniste qui se spécialisa entre autre dans la fabrication de bonheur du jour en placage de bois de rose.
Estimate: 7,000/9,000 euros

Send this article to a friend