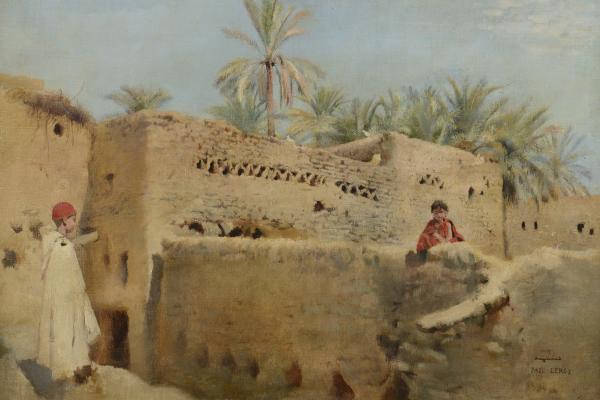 The Orient is undoubtedly one of the subjects attracted painters from the late eighteenth with artists such as Liotard. But it was with the conquest of Algeria that many artists painted North Africa until the mid twentieth century. Those are the Orientalist painters.
Popular with artists, Orientalism has been since its beginnings among collectors and Orientalist paintings are still highly successful in auctions.
Alongside the big names such as Delacroix, Fromentin, Dinet, Majorelle or Washington for which market quotations exceed the tens of thousands, there are many lesser-known artists of great talent that can be afford between £1,000 and £10,000.
The sale of Philocale auctioneer on April 11 offered a wide range; let's look at three of them, Victor Huguet, Alexis Auguste Delahogue and Paul Leroy.
Victor Huguet (1835-1902)
Student of one of the great masters of the Orientalist Eugène Fromentin, he made a first visit to Egypt at the age of 17.
During his career, he travelled on numerous occasions in Algeria, Egypt, and Libya and to Constantinople.
He participated in numerous exhibitions and is present in several French museums.
Lot 32 of the sale,

Landscape of Algeria, oil on mahogany panel measuring 46 cm high and 38 cm wide, signed lower left, was expected between 4,000 and 5,000 Euros to finally fetch more than twice its low estimate at 9,000 Euros.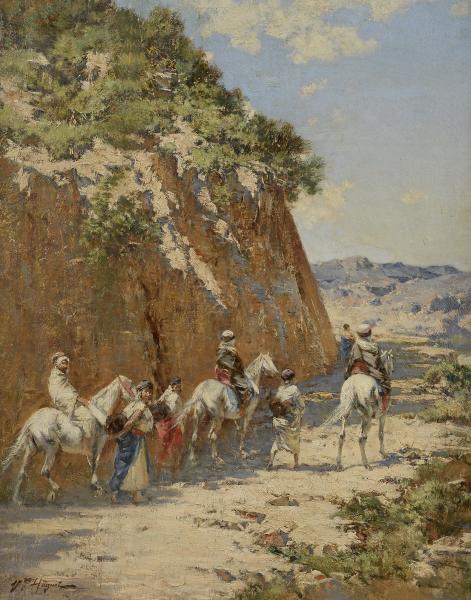 Note that this painting was very attractive, both in the choice of colours and layout, as in the choice of his subject with his horsemen he excels in painting.
Paul Leroy (1860-1942)
Student of Alexandre Cabanel at 17, he received the second Premier Grand Prix de Rome at 24.
From 1884, he began travelling, Constantinople, Egypt and especially Algeria. He became friends with Etienne Dinet and learned Arabic as the latter.
His orientalist paintings are characterized by scenes de genre and portraits.
Lot 33 of the sale,

Children in the village of Chetma, oil on canvas measuring 38 cm high and 56 cm wide, and probably dated 1898 signed lower right, was expected between 4,000 and 5,000 Euros and was sold in the estimate at 4,300 Euros.
This painting is characteristic of Leroy paintings especially by is chromatic scale.
Main illustration.
Aléxis Auguste Delahogue (1867-1950)
His education is not known but he is found with his twin brother Eugène, also a painter, among the members of the Société des Peintres Orientalistes et de la Société des Artistes Algériens et Orientalistes. He traveled to Algeria and Tunisia and was awarded the Order of Nishan al Iftikhar and also exposed several times at the Salon des Artistes français, where he became a member in 1889.
Lot 34 of the sale,

The spinners, an oil on canvas measuring 50 cm high and 63 cm wide, signed and dated 1909 lower right, was estimated between 4,000 and 5,000 Euros and was sold well above its high estimate at 6,400 Euros.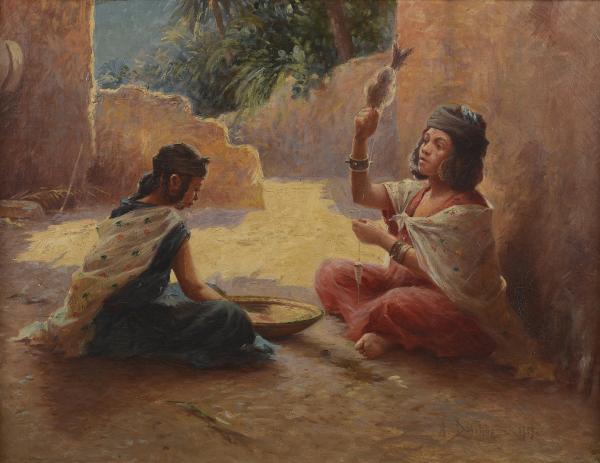 Our painting is characteristic of the way of Delahogue by its brightness and colours.



Orientalists are and remain a great value in auction room either for purchase or sale. These paintings show us an Orient full of dreams and imagination impress with their colours, brightness.

We regularly collaborate at the organization of Orientalist paintings auctions and are at your service to estimate, appraise and sell your paintings.
Images: courtesy of Philocale

Send this article to a friend