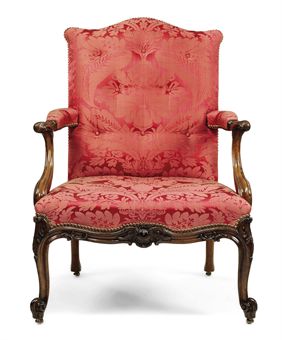 Thomas Chippendale (1718-17779) is one the most notorious English cabinetmaker and decorator. In 1754, he published a book « The Gentleman and Cabinet Maker's Director » that influenced furniture in England and in United States for centuries.

Cet ouvrage était le plus important recueil de dessins de meubles publiés jusqu'alors en Angleterre. Le succès fut si important que le royaume se meubla en Chippendale de 1745 a 1770 et son influence est sensible aux Etats-Unis dès 1755 et jusqu'en 1790. Ses idées sont neuves et il faut souligner la qualité d'exécution des meubles et sièges toujours parfaitement assemblés. Il emploie généralement l'acajou qui apparaît en 1750 qu'il teinte à la façon du noyer qui est le bois populaire en Angleterre depuis 1702.

Aux Etats Unis et en particulier à Philadelphie l'acajou et le noyer sont utilisés alors qu'aux Bermudes, les ébénistes locaux utilisent le cèdre qu'ils teintent a la manière de l'acajou. Ce bois peut d'ailleurs tromper de nombreux spécialistes. On peut cependant le distinguer par sa teinte orange chaud.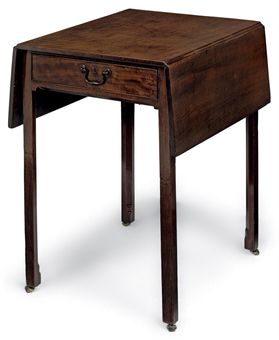 Pembroke table en acajou d'époque Georges III dans le style de Thomas Chippendale, vente Christie's le 13 avril 2010, lot 135.

On distingue quatre mouvements différents dans le style Chippendale :

-Le premier style Chippendale emprunte au mobilier Louis XV français son aspect rococo qui apparaît particulièrement révolutionnaire puisqu'il succède au style Queen Ann que l'on peut rapprocher de nos styles Louis XIII et Louis XIV sans période de transition.

-Le second utilise des motifs tels que des lions, des masques, des oves et des flèches et pourrait être qualifié d'anglais.

-Certains de ses dessins reflètent la Chinoiserie avec des motifs de pagode, copeaux de bambou, des pieds griffes enserrant une boule et des sculptures en treillis. L'emploi de laques généralement européens est particulièrement développé.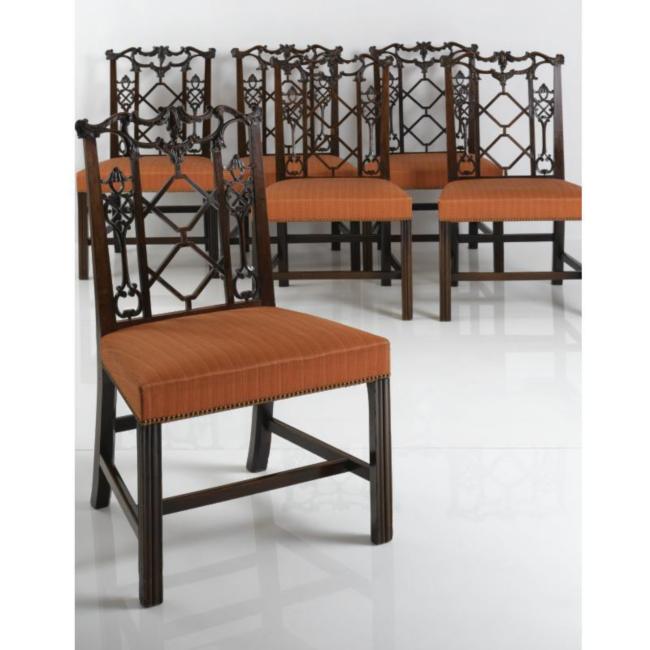 Suite de six chaises en acajou d'époque Georges III dans le style de Thomas Chippendale, vente Sotheby's le 20 octobre 2006, lot 25.

-Enfin, certaines pièces montrent une influence gothique évidente avec des arcs brisés et des motifs de quatre-feuilles.

La sculpture des meubles Chippendale se distingue par sa vigueur et sa profondeur. Il ne se limite pas à sculpter des coquilles et développe un riche répertoire ordonnancé de volutes, feuillages et godrons. Il emploie également la dorure et occasionnellement le placage. Il faut souligner qu'il aime orner ses tables et le haut de ses cabinets d'une fine galerie ajourée en bois sculpté.

Chippendale est particulièrement connu pour ses secrétaires et bureaux. Ces secrétaires en pente (appelés également par le marché, bureaux dos d'âne s'ouvrent par un abattant formant écritoire qui peut être droit ou chantourné. Il est également à l'origine de la Pembroke,table, qui est une table à volets dont la partie centrale rectangulaire ou carré est fixe.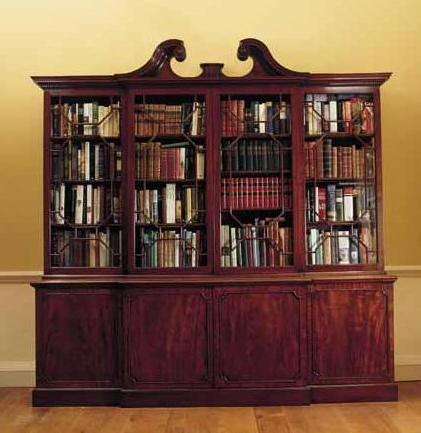 Bibliothèque en acajou attibuée à Thomas Chippendale, époque Georges III, vente Sotheby's le 14 octobre 2003, lot 76.

Mais c'est au niveau des sièges que son apport fut particulièrement innovant de par la multiplication des modèles tous différents. Il mit au point le dossier plat entièrement garni et parallèlement le dossier en échelle. Il remet au gout du jour les dossiers en arc encadrés de pilastre fortement influencés par le style gothique. Certains sièges sont très richement sculptés de motifs de lacets s'imbriquant particulièrement complexes. Les montants et traverses peuvent être plats, chantournés, fuselés, cannelés.

Thomas Chippendale marqua profondément l'art du meuble anglo-saxon et son style ne s'arrêta pas avec le style regency. Les meubles produits par Thomas Chippendale sont aujourd'hui parmi les plus chers du monde.

Cédric Henon
Furniture Specialist.

Illustration principale : fauteuil en acajou d'époque Georges III circa 1760 attribué à Thomas Chippendale, vente Christie's le 20 mai 2010, lot 85.

Laurent Hache and Cedric Henon expertise your bronze, furniture, ceramics, seat or sculpture, for sale, auction, insurance or inventory. You can contact us by phone +44 796 722 3146 or +33 1 40 26 05 46.




Send this article to a friend