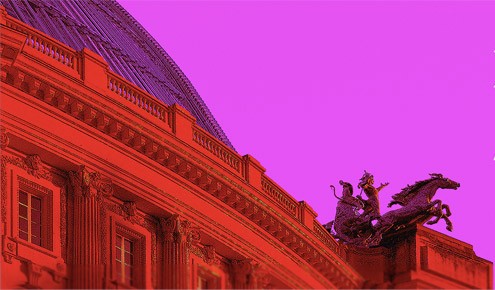 The 25 th Biennale des Antiquaires will be the major September event in Paris. On this occasion, the most famous antique dealers and jewelers will present their finest masterpieces in the Grand Palais. Discover in preview, our selection of five works of art of exceptional archaeological to modern paintings.

Un zébu de Picasso ?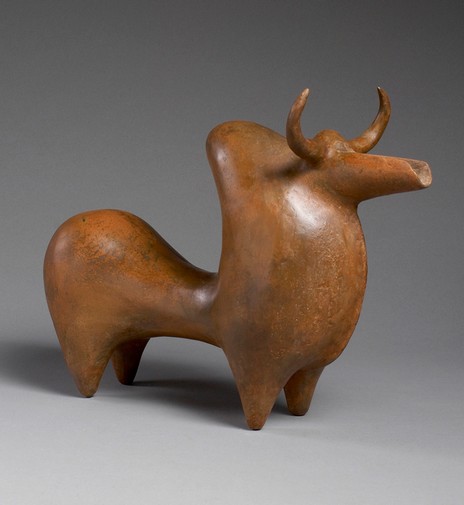 Zébu "Amlash". Vase libatoire zoomorphe en terre cuite. Culture de Marlik, sud de la Mer Caspienne, circa 1100-800 av. J.C. Hauteur : 25 cm. Longueur : 33 cm. © Galerie Kevorkian

La galerie Kervokian, spécialisée dans l'archéologie du Proche et du Moyen Orient et les Arts de l'Islam présentera à la Biennale un vase libatoire d'une étrange modernité.
Moderne de part la fluidité de sa ligne, ce vase représentant un zébu, l'est aussi, de part son style. Il date pourtant d'environ 1000 ans avant J.C. Découverts dans la nécropole de Marlik en Iran, les vases de ce type sont très rares et ont bien mérités leur surnom de « Picasso Bulls ».

Le triomphe de la Rocaille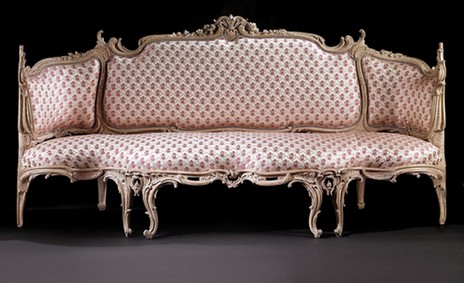 Canapé à joues et à châssis d'après des dessins de Johann Michael II Hoppenhaupt. Allemagne, Prusse ou Bavière, vers 1750. 106 x 223 x 71 cm. Bois de hêtre laqué dans sa couleur d'origine. © Galerie Didier Aaron et Cie

La Nature a souvent inspiré la forme et le décor des meubles. C'est notamment le cas au cours de la première partie du règne de Louis XV, moment où le style rocaille s'impose. Ce style fait de courbes, de contre courbes et d'ornements naturalistes sculptés en relief triomphe rapidement dans toutes les cours européennes et notamment en Allemagne où il prit le nom de Rokoko. Appartenant tout entier à cette esthétique, et présenté par la galerie Didier Aaron et Cie, ce canapé est exceptionnel tant dans l'exubérance de ses formes que dans la richesse de sa sculpture.

Un souvenir d'éternité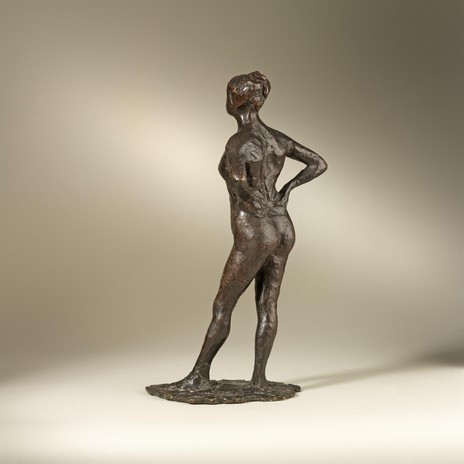 Edgar Degas (1834 - 1917), « Danseuse au repos, les mains sur les hanches, jambe gauche en avant », épreuve en bronze à la cire perdue, Fondeur Hébrard, Paris, circa 1920, signée et marquée « Degas » et « A. A. Hébrard Cire Perdue ». © Sladmore gallery Ltd

À la mort de Degas en 1917, on découvre dans son atelier 150 sculptures en cire ou en terre demeurées pratiquement inconnues du public, et pour certaines dans un état de détérioration avancée. Pour laisser une trace durable de son œuvre de sculpteur, ses héritiers décident de les faire éditer en bronze en 22 exemplaires par le fondeur parisien Hébrard. C'est l'un de ces exceptionnels exemplaires que présentera en exclusivité la célèbre Sladmore Gallery de Londres, spécialiste en sculptures modernes et contemporaines.

Une symbolique cachée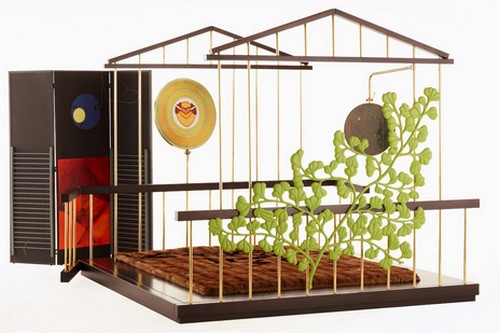 MAX ERNST. Exceptionnel Lit-Cage et son paravent, par Max Ernst, 1974.Oeuvre conçue et exécutée en 1974, fournie avec un certificat d'authenticité daté par l'artiste: "Seillans, Février 1974".Dimensions du lit : (h) 225x265x250 cm (376 cm de largeur, avec rabats) ; Dimensions du paravent: (h) 186x166 cm. © Galerie Yves Gastou

Le 20e siècle est l'âge d'or du mobilier d'artiste. De grands peintres et sculpteurs ont mis leur art au service de la fonction. Parmi eux, l'illustre surréaliste Max Ernst (1891-1976) réalise à la fin de sa vie une commande d'exception. Présentée par la galerie parisienne Yves et Victor Gastou, il s'agit d'un lit en forme de cage et de son paravent. Cette cage est hautement symbolique. Elle fait référence à l'un des thèmes chers au Siècle des Lumières, celui de la «cage ouverte» ou de l'«oiseau envolé », symbole d'une virginité perdue.

Le cri du corps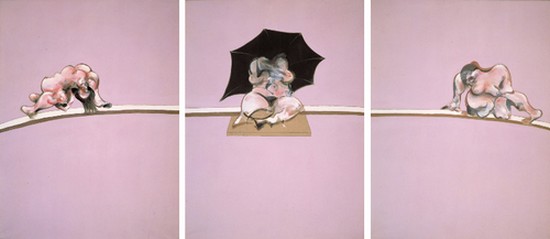 Francis Bacon (1909 – 1992), Trois études de corps humain, 1970, huile sur toile, triptyque, chaque panneau : 198,1 x 145,3 cm, © 2010 Estate of Francis Bacon. All rights reserved. / ARS, New York / DACS, London

Fondée en 1946, la Marlborough Gallery est reconnue comme étant l'une principales galeries d'œuvres d'art contemporaines au monde. Dans le cadre de la 25e Biennale, elle présentera trois toiles de grands formats de qualité musée. Ces études de corps humain illustrent à merveille l'art de Francis Bacon qui soulève encore de nombreux débats quant à la violence de son expression. Pour répondre à la critique, l'artiste déclarera : « Quand on me dit que mes tableaux sont troublants, poignants ou choquants, je me demande toujours si la vie n'est pas plus troublante, poignante ou choquante. Je voudrais tellement arriver à attraper un instant de cette réalité-là, avec tout ce que cet instant contient de subjectivité, et l'enfermer dans un tableau! J'aime assez cette formule de réalisme subjectif en ce qui me concerne. »



Informations pratiques Biennale des Antiquaires 2010 :

Dates : du 15 au 22 septembre 2010
Horaires : de 11h à 20h, nocturnes jusqu'à 22h les 16 et 21 septembre
Lieu : Grand Palais – Avenue Winston Churchill – 75008 Paris
Organisation : Syndicat National des Antiquaires
Site internet : www.bdafrance.eu

Réserver une visite privée en compagnie d'un expert :
www.hautecuriosite.com

Cedric Henon and Laurent Hache expertise your bronze, furniture, ceramics, seat or sculpture, for sale, auction, insurance or inventory. You can contact us by email or by phone +44 796 722 3146 or +33 1 40 26 05 46.




Send this article to a friend