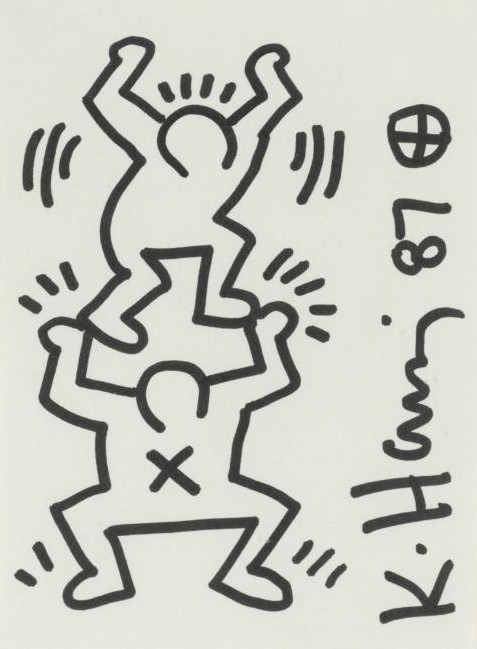 The Art Street, as an art movement from the New York tradition and culture associated with Hip-hop encompasses disciplines as diverse as graffiti, stencil, poster, sticker, mosaic ...

Si la dimension « urbaine » de ces œuvres apparaît comme un de ses fondements, force est de constater qu'un nombre croissant d'artistes expose en galerie, transposant ainsi leur travail sur la toile. La multiplication des lieux et expositions dédiés au Street Art offre au mouvement une plus large visibilité.
Son entrée sur le marché de l'art semble confirmer l'institutionnalisation du mouvement.


De la rue à la galerie...

L'institutionnalisation du graffiti, autrement dit, le fait de l'instituer formellement dans le circuit artistique, a généré une sorte de faux débat sur la légitimité des artistes urbains à quitter la rue pour les galeries.
Il est difficile de concevoir qu'un artiste puisse gagner de l'argent, et parfois beaucoup d'argent, en vendant son travail. Cette notion est d'autant plus exacerbée lorsqu'il s'agit d'art urbain.
Que cet art de la rue soit transposé sur un support plus traditionnel pour être vendu dérange.
Cette tendance, initiée notamment par Keith Haring dans les années 80 est aujourd'hui confirmée par le dynamisme du marché du Street Art.

Le New York des années 80 voit émerger ce que l'on pourrait grossièrement définir de première institutionnalisation du graffiti.
Des artistes tels que Kenny Scharf, Basquiat (SAMO) ou Keith Haring commencent à exposer en galerie 2 et rencontrent un succès public.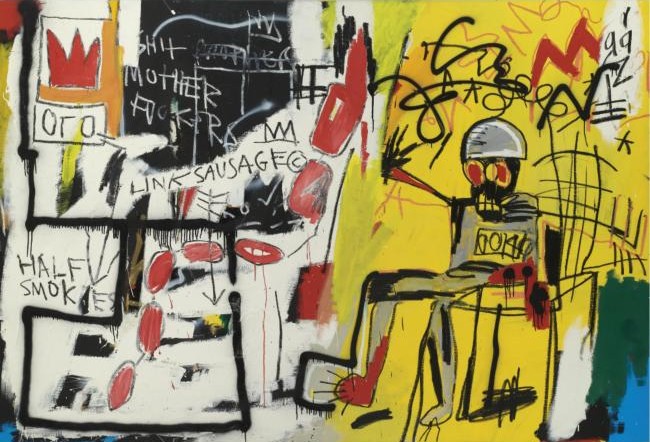 Basquiat, Jean-Michel (1960-1988), Sans titre (Electric chair), 167,6 cm x 244,5 cm, Lot 16, Sotheby's New-York, 14 novembre 2007, 11 801 000 $ (frais inclus).

Porté par sa volonté de montrer le graffiti, Haring ouvre en 1986 dans le quartier de SoHo son premier Pop Shop, boutique où il vendait ses œuvres et produits dérivés. Cette démarche, très controversée dans les milieux artistiques à l'époque et néanmoins fortement appuyée par son mentor Andy Warhol semble aujourd'hui visionnaire.

...De la galerie au musée

La multiplication des lieux officiels de diffusion prouve que le Street Art est aujourd'hui considéré par le milieu de l'art comme un mouvement artistique à part entière.
A l'instar des impressionnistes qui restèrent écartés de la reconnaissance du milieu artistique au 19e siècle, les artistes urbains ont aujourd'hui une place dans les galeries et les musées.
Dans le monde entier, les galeries spécialisées fleurissent. Les musées leurs consacrent des expositions temporaires : rétrospective de Keith Haring au Musée d'Art Moderne de la ville de Lyon en 2008, Exposition collective à la Tate Modern Galery de Londres la même année.

La cote de certains artistes ne cesse de grimper : il faut débourser plusieurs milliers de dollars pour acquérir les œuvres d'artistes tels que Futura 2000, JonOne, Keith Haring ou Banksy.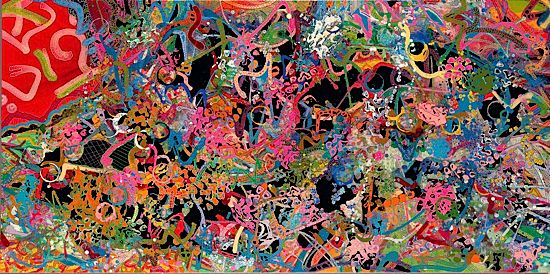 JonOne (John Perrello dit) (né en 1963), United States of Graffiti, acrylique et peinture aérosol sur toile, réalisée en 1996-97, 97 cm x 195 cm, Lot 235, Artcurial, 15 décembre 2008, 25 322 € (frais inclus).

La vente privée d'Artcurial en Février 2008 a remporté un franc succès, et la maison de vente remet ça en juin 2009.
Le succès de ces ventes annonce la couleur. Le Street Art s'impose désormais sur le marché de l'art international.


Mais que tous ces chiffres ne vous fassent pas perdre tout espoir : les graffitis restent accessibles à tous, au détour de chaque rue, dans la ville.


Elodie Salmeron


Notes :
1Ou art urbain. Terme générique englobant le graffiti et désignant toutes les pratiques plastiques venant de la rue.
2Cf : La galerie Tony Shafrazi qui a accompagné les débuts d'artistes associés au graffiti tels que Keith Haring et Kenny Scharf, Hervé et Richard Di Rosa, en 1984, et les Frères Ripoulin, en 1985.
Illustration principale :
Keith Haring, stylo feutre, signé et daté 87, Hauteur: 13, 6cm, Largeur: 9,9cm, Lot 194, vente Sotheby's New-York, 10 mars 2009, $ 10 000.
A propos d'Elodie Salmeron :
Elodie Salmeron est consultante Street Art. Elle collabore avec le cabinet d'expertise Authenticité dans ses différentes missions de conseil.



Feel free to contact our fine art specialists if you want to appraise your works of art. We also assist you in the selling of your works of art : consultancy.





Send this article to a friend