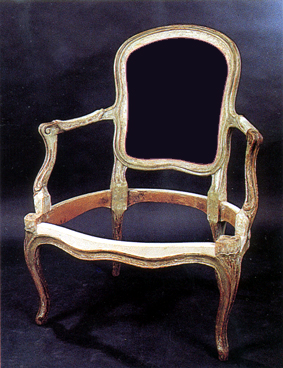 Among the difficulties encontered by restoration of old furniture, the retoration of chairs and armchairs is particular as the frame are subjetc to mechanicals efforts that are excessively higher than for other types of furniture.

D'autres contraintes sont importantes par exemple sur les abattants de secrétaires.
Il existe deux façons de concevoir la restauration des sièges :
1/ la restauration « type musée » qui ne tient en général compte que de critères historique et esthétique.
2/ la restauration pour un particulier au vu d'un usage dit « normal ».

Un siège XVIII° est habituellement garnis de nombreuses fois avant de nous parvenir ce qui engendre des séries de trous de semences ainsi que les trous de clous. De plus, les insectes xylophages attaquent volontiers les intérieurs car à l'abris de la lumière.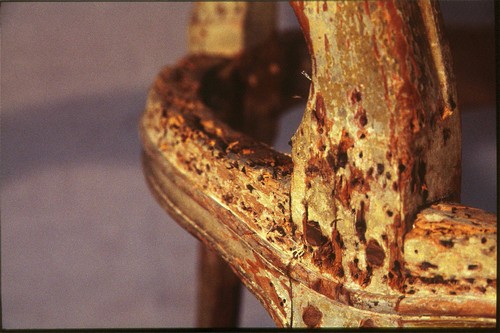 Le siège a été dégarni. Les traverses et le support d'accotoir représentés, sont en mauvais état de conservation. Un siège ancien peut avoir été regarni jusqu'à cinq fois. Les trous des clous et semences de fixations ont rendu le fauteuil en cabriolet très fragile.

Lors d'une restauration d'un siège dont les bois ne supporteront pas un nouveau regarnissage, il convient donc de refaire les feuillures de garniture.
Pour ce faire, la première opération consiste en un démontage méticuleux. Déchevillage en faisant attention aux chevilles croisées. Une fois démonté, l'opération la plus complexe débute :
L'enlèvement des parties qui recevront le nouveau cloutage : les feuillures de garniture.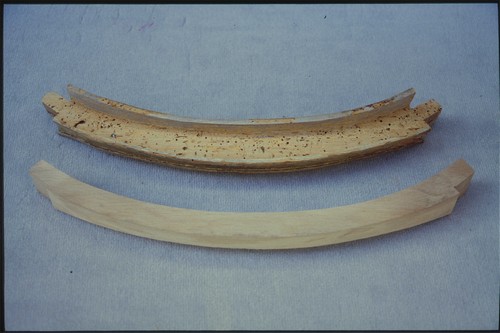 Le cabriolet a été démonté. Les parties dégradées de la traverse ont été enlevées. Une nouvelle feuillure a été réalisée.

Une donnée s'impose : le respect des traces d'outils anciennes : ce que nous appelons la croûte ancienne. En retournant un siège XVIII°, les faces internes des traverses sont visibles car ils sont garnis « à l'ancienne » La première opération du tapissier est de tendre les sangles par-dessus les traverses de l'assise. Le travail du restaurateur implique que les pièces en bois neuf sur lesquels le tapissier travaillera soient invisible. Pour ce faire, la pièce commence à deux ou trois millimètres de la face interne de la traverse et descend sur plusieurs centimètres de hauteur.
Cette pièce, en se prolongeant de part et d'autre, permet aussi de faire office de tenons afin de consolider ceux qui seraient faibles ou piqués.
Ces pièces, relativement simples deviennent très complexes lorsqu'il s'agit de les faire sur des traverses cintrées ou des éléments de dossiers galbés.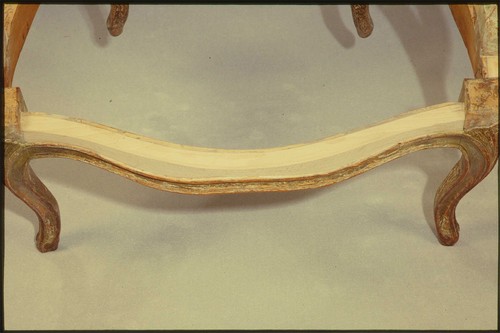 Le fauteuil d'époque Louis XV a été remonté. Le meuble est renforcé et prêt à être regarni.

La fin du travail est traditionnelle : Nettoyage, remontage du siège remise en place des anciennes chevilles, finition.

L'intérêt d'une telle restauration est qu'elle offre un gage de solidité égal à celui d'origine et de plus, est invisible. Le seul problème est le coût, car il est de plusieurs dizaines d'heures.


Thierry Wagner et Jean-Philippe Chavanis, restaurateurs de meubles anciens

Pour en savoir plus : Atelier Wagner & Chavanis, atelier de restauration de mobilier ancien installé à Lyon.
Voir : /

Feel free to contact our fine art specialists if you want to appraise your works of art. We also assist you in the selling of your works of art : consultancy.





Send this article to a friend