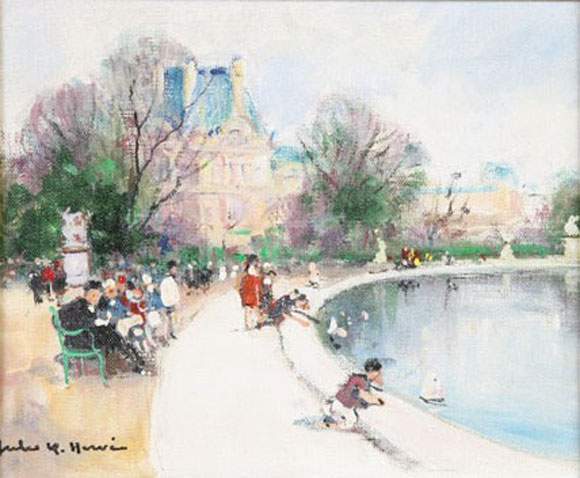 Jules Rene Herve (1887-1981) was a French impressionist painter of our time. He is best known for his paintings depicting scenes of Parisian life full of light.

Né en 1887 à Langres, Jules René Hervé débute ses études artistiques dans une école du soir de sa ville natale. Aussi loin qu'il se souvienne, Jules René Hervé a toujours voulu devenir un artiste de talent afin d'être en mesure d'exprimer par la couleur la beauté de tout ce qu'il voit.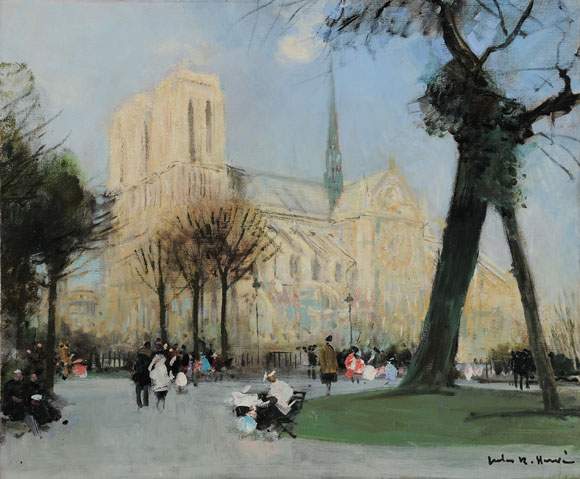 Jules René Hervé, « Square Notre Dame à Paris », vente Chevau-Légers Enchères Martin-Chausselat le 26 octobre 2008, lot 204.

A Paris, il poursuit ses études artistiques à l'École des Arts Décoratifs puis à l'Ecole des Beaux Arts. Il expose ses œuvres pour la première fois au Salon des Artistes Français en 1910. Il fut l'un des membres les plus importants de ce groupe. Après l'obtention de son diplôme d'enseignant, il commence à enseigner. De 1911 à 1943, il enseigne la peinture à de nombreuses générations de jeunes artistes. En 1914, il reçoit une première médaille d'argent de l'association des Artistes Français.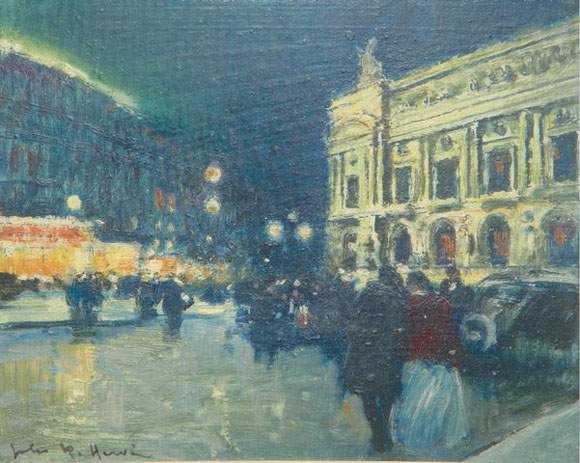 Jules René Hervé, « Opéra illuminé », huile sur panneau, vente Besch Cannes Auction le 20 juillet 2008, lot 135.

Il est le type même de l'artiste qui a travaillé à son compte, indifférent aux modes et aux tendances de l'extérieur. Il n'a jamais cessé d'approfondir les secrets techniques de son art, et après 50 années d'expérience artistique, il est arrivé à une parfaite maîtrise de la science de cet art qui l'absorbe.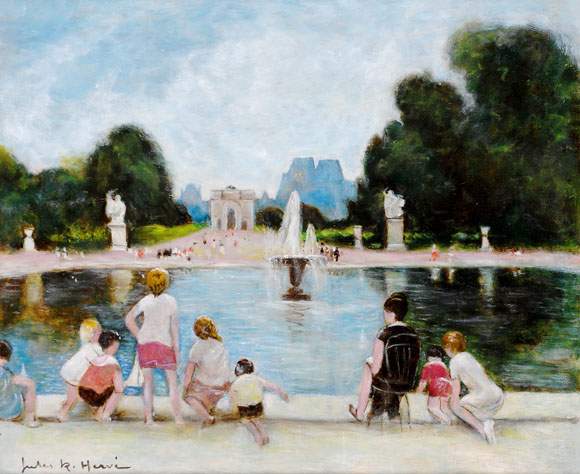 Jules René Hervé, « Enfants au jardin des Tuileries », huile sur toile, vente Chevau-Légers Enchères Martin-Chausselat le 24 juin 2007, lot 253.

Jules René Hervé est à la fois un peintre de la vie quotidienne, ses toiles nous représentent des personnages vacants à leurs taches journalières, et un peintre de scènes parisiennes. Il interprète ses scènes avec une grande sensibilité, en mettant tout son cœur dans son travail. Toute sa sensibilité artistique est assurée par des coups incroyables de lumière et de couleur. Paris vu par Hervé est une ville poétique, pleine de lumière. Cependant, il ne peint pas un Paris idéal mais la ville réelle. Sa vie privée, ses sentiments et son caractère influent également sur sa peinture.




Jules René Hervé, « Bords de Seine, vue sur Notre Dame », huile sur toile, vente PIASA la 30 mars 2007, lot 84.

Non seulement Hervé est un peintre de grand talent, mais il représente la plus pure tradition de l'art français. Il peint tout comme les grands impressionnistes d'autrefois, et joue avec ses couleurs tels un musicien sur son instrument de musique. Il obtient dans chacune de ses œuvres une merveilleuse harmonie de couleurs et de lumière. Ses tableaux sont aujourd'hui conservés dans de nombreux musées en France, le Petit Palais à Paris, à Langres, Dijon, Saint-Etienne, Tourcoing, Annecy et à l'étranger, au Chicago Museum et à Casablanca.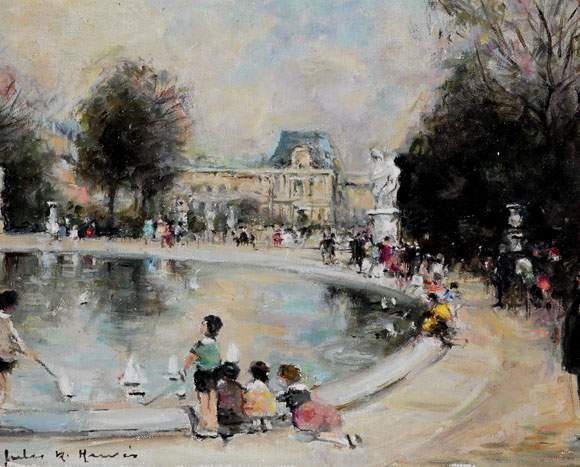 Jules René Hervé, « Jeux d'enfants aux jardins du Luxembourg », huile sur toile, vente Chevau-Légers Enchères Martin-Chausselat le 25 mars 2007, lot 207.

Ses toiles sont aujourd'hui recherchées par de nombreux amateurs en France et à l'étranger où de son vivant il rencontra un vif succès. Tous sont séduits tant par la lumière et les couleurs de Jules René Hervé que par ses scènes parisiennes pleines de charme.

Jules René Hervé, « Le Bassin des Tuileries », huile sur toile signeé à gauche, vente Bayeux Enchères le 14 juillet 2007, lot 136.

Feel free to contact our fine art specialists if you want to appraise your paintings and works of art. We also assist you in the selling of your works of art : consultancy.






Send this article to a friend