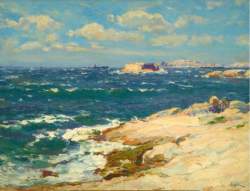 Jean-Baptiste Olive (1848-1936) was a French painter of the second half of the nineteenth century and early twentieth specializing in landscape and marine frequently representing his native Provence. Unknown to the general public, it is celebrated on the Cote d'Azur, and in particular in Marseilles he painted many times for his pictures full of sunshine and light.

Issu d'un milieu modeste, Jean-Baptiste Olive s'inscrit cependant à l'Ecole des Beaux-arts de Marseille où il se distingue par ses talents de décorateur. Il finit son cursus en 1871 récompensé par un Premier Prix. Encore apprenti, il part pour Paris avec son ami Etienne Cornellier où il participe à la décoration du Cirque d'Hiver et de la basilique du Sacré Cœur. En 1889, il décore plusieurs pavillons pour l'Exposition Universelle ce qui lui vaut une Médaille d'argent.

Durant ses années parisiennes, Olive peint et envoie dès 1874 des tableaux au Salon de Paris pour lesquels il reçoit plusieurs récompenses. En 1881, Jean-Baptiste Olive devient sociétaire du Salon des Artistes Français.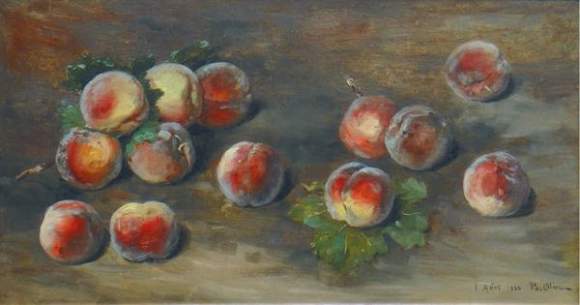 Jean-Baptiste Olive, nature morte aux pêches, huile sur toile signée et datée, vente Besch Cannes Auction le 15 aout 2009, lot 94.

Ses premières œuvres sont marquées par un certain académisme, il sort des Beaux-arts et son sujet de prédilection est alors la nature morte qu'il traite d'abord à la façon d'un Chardin ou d'un Antoine Vollon, qu'il fréquente à Paris, puis des maîtres Hollandais du XVIIème siècle. Il faut souligner la sensualité du rendu des fleurs et fruits dans les tableaux d'Olive. Mais c'est surtout dans ses tableaux de paysages et de la mer que tout son talent se révèle.

Jean-Baptiste Olive connaît bien la côte et la mer qu'il a fréquentés toute son enfance ce qui lui permet de donner à ses marines une sensibilité toute particulière. Ses paysages sont à la fois réalistes et idéalisés. Sa technique de travail est très particulière : il réalise en extérieure de nombreux croquis pris sur le vif dont il faut souligner la précision et ce n'est qu'alors, dans son atelier qu'il retranscrit sur la toile. Plus tard, il utilisa également des photos prises sous des angles insolites. Ses représentations de bateaux montrent une grande connaissance de l'art de la construction navale.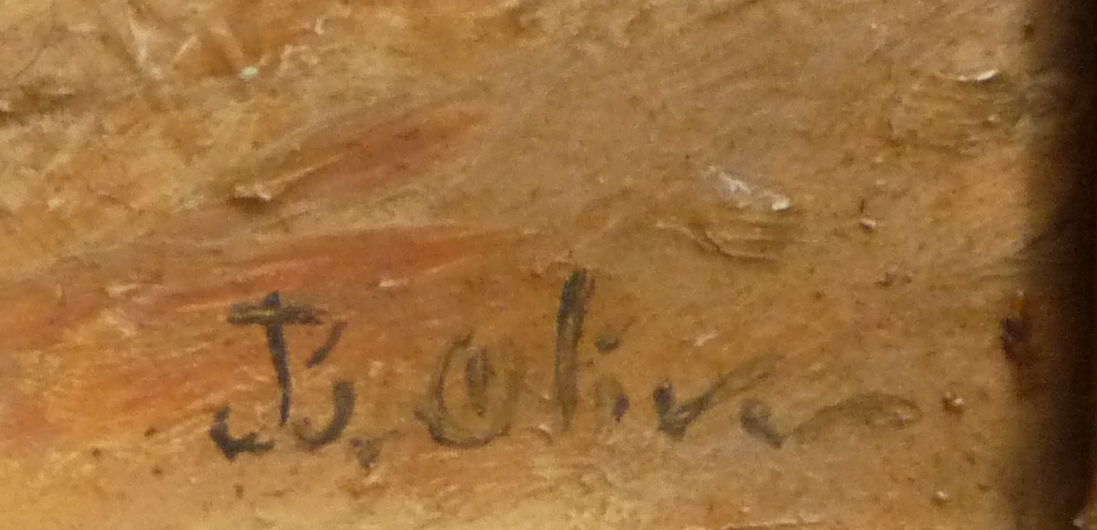 Signature de Jean-Baptiste Olive telle qu'elle apparaît sur un tableau vendu par Maitre Brossat.

Ses paysages maritimes sont hors du temps et les personnages, souvent des pêcheurs ne sont là que pour animer la scène. Ses tableaux mettent généralement en scène les trois éléments, l'eau, la terre et le ciel et le combat qu'ils se livrent en particulier les vagues s'écrasant sur la roche qu'il peint très blanche car gorgée de soleil et de lumière.
Il sacrifie l'académisme préférant privilégier l'harmonie de la composition. Avec Olive, la Méditerranée n'évolue pas et il nous la présente telle que nous la rêvons, idyllique, baignée de lumière et de soleil, avec ses rochers blancs.

Jean-Baptiste Olive fut au contact des grands courants de cette période charnière qu'est la fin du XIXème et le début du XXème siècle mais il n'est sensible à aucun d'entre eux. Il ne travaille pas en extérieur comme les impressionnistes, ses tableaux sont toujours soigneusement réalisés en atelier et chaque détail en est pensé. Il en est de même du symbolisme, du cubisme ou plus simplement de l'académisme.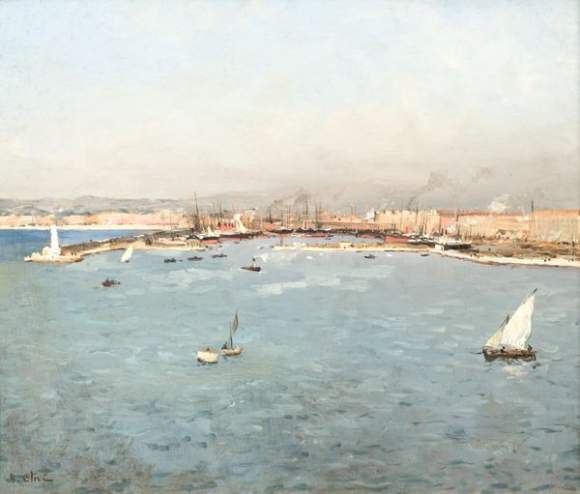 Jean-Baptiste Olive, L'entrée du du port de la Joliette, huile sur toile signée, vente Damien Leclere le 26 juin 2009, lot 110.

Jean-Baptiste Olive est un peintre perfectionniste qui s'est pleinement affranchi de toutes influences et dont l'art de peindre est unique. Il faut d'ailleurs souligner qu'il n'aura aucun élève et qu'avec lui disparaît un type de paysage. La Côte d'Azur sous le pinceau de Jean-Baptiste Olive nous apparaît tel un songe avec son ciel azur, son soleil éclatant et sa large palette de couleurs. Les tableaux de Olive, nous révèle un véritable artiste coloriste qui séduit toujours autant les amateurs et les collectionneurs.

Feel free to contact our fine art specialists if you want to appraise your works of art. We also assist you in the selling of your works of art : consultancy.



Illustration principale : Jean-Baptiste Olive, Vue des iles de Marseille, huile sur toile signée, vente Besch Cannes Auction le 9 novembre 2008, lot 161.






Send this article to a friend