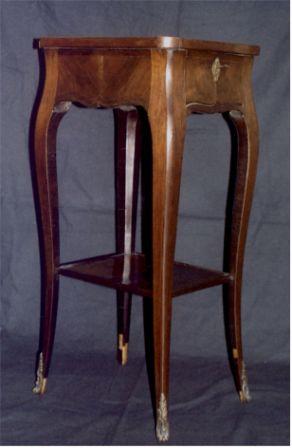 Whether it's a writing, drum, dining, night, in rag, family or closer to us, alow one, we all own a table.
The eighteenth century cabinetmakers created most of those models
Let us draw the characteristics of the main table models that are found on flea markets, in antique shops or at auction.

La table à écrire : elle présente un tiroir en ceinture découvrant un encrier, on écrit soit sur une tirette latérale soit sur le tiroir qui forme écritoire lui-même. Ce type de table apparaît vers 1730. Elles peuvent être en bois naturel, en placage de bois exotique ou en marqueterie souvent de fleurs sous Louis XV. Les plus précieuses sont garnies de panneaux de laque oriental ou de plaques de porcelaines de Sèvres.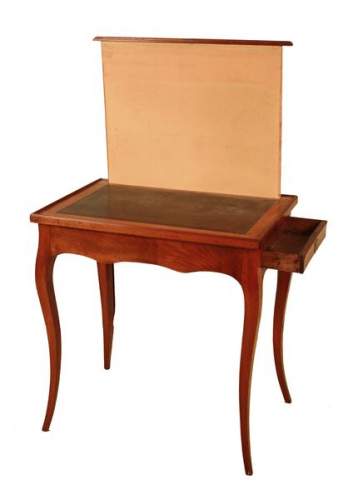 Table à écrire d'époque Louis XV en bois naturel, vente Osenat, le 26 juillet 2009, lot 342.

La table chiffonnière : elle ouvre en façade par plusieurs rangs de tiroirs, généralement trois. Le tiroir supérieur forme parfois écritoire. Elle présente souvent une tablette d'entrejambe. Elle apparaît vers 1735 au début de la période Louis XV.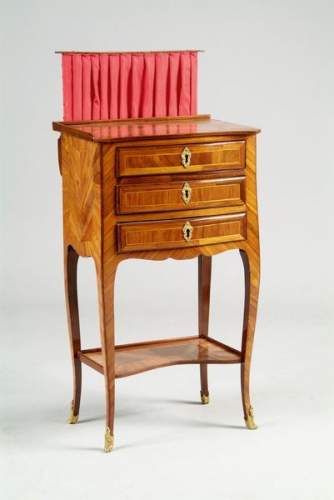 Table chiffonnière en bois de placage, époque Louis XV, vente Ader le 7 décembre 2009, lot 255.

La table à rideau : elle s'ouvre par un rideau qui découvre une importante niche. A l'origine, c'est table renfermait le pot de chambre et servait par conséquent de table de nuit. C'est à la fin de période Louis XV que ce type de table se développe pour se généraliser sous Louis XVI et durant le XIXème siècle.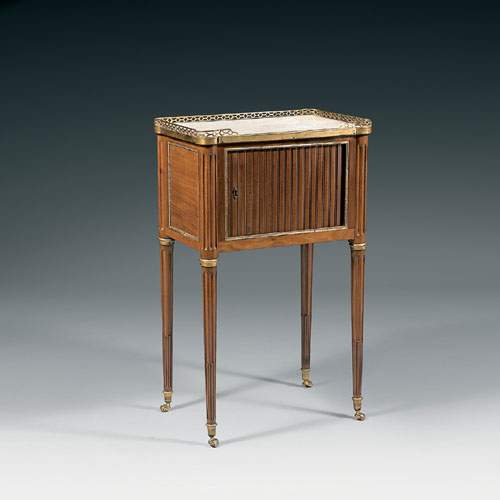 Table à rideau en acajou estampillée Cramer, époque Louis XVI, vente de Maigret le 8 décembre 2006 lot 315.

La table en tambour : elle est souvent tripode et son corps circulaire s'ouvre généralement par un vantail. Elle est très caractéristique de la période transi tion entre le Louis XV et le Louis XVI.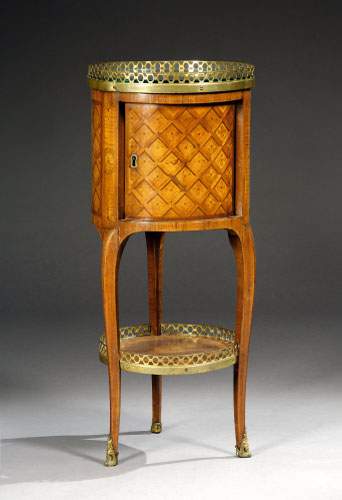 Table tambour en marqueterie estampillée Schmitz, époque transition, vente Aguttes le 12 décembre 2006, lot 212.

La table de salle à manger : en acajou ou en noyer de forme ovale lorsque ses volets sont ouverts, elle peut être déployée pour y disposer des allonges. On trouve parfois le terme de table à allonges. Elle apparaît pour la première fois sous Louis XVI vers 1780 et est toujours produit selon le même principe dans des styles plus contemporains.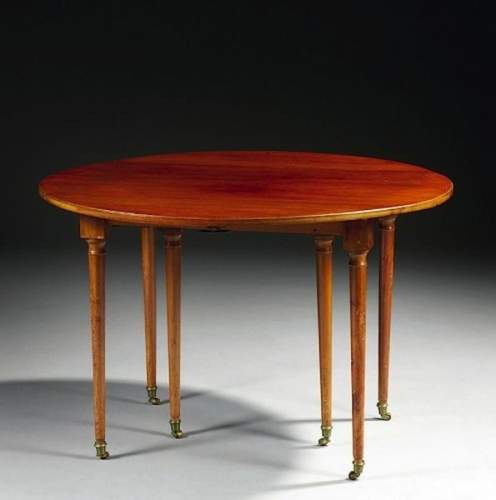 Table à volets dite de salle à manger en acajou, époque Louis XVI, vente Artcurial le 14 avril 2010, lot 274.

La table de famille : elle apparaît sous Louis-Philippe et se présente sous la forme d'un large guéridon présentant en ceinture des tiroirs numérotés sur tout le pourtour. Il faut se souvenir que Louis-Philippe eut de nombreux enfants.

La table basse : elle apparaît très tardivement dans l'histoire du mobilier, durant la période art déco, et son succès ne se dément pas depuis.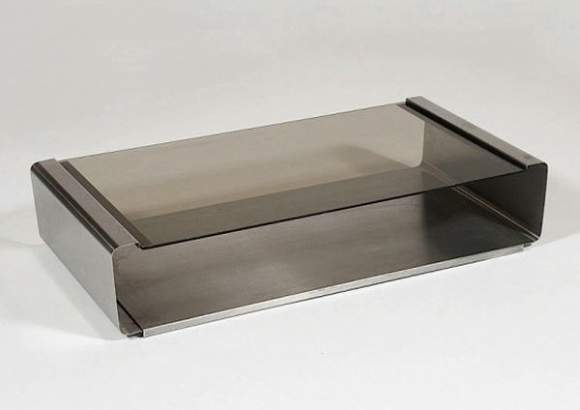 Table basse par Francois Monet, vers 1970, vente Artcurial le 15 mars 2010, lot 263.

Il ya beaucoup d'autres types de tables, elles peuvent être à la Tronchin, à jeux, de bibliothèque ou à mécanisme mais toutes ne peuvent être traitées ici.

Le prix et la valeur d'une table sont fonctions de plusieurs facteurs, son modèle, sa date de création, son état de conservation, son auteur, la rareté et la richesse des matériaux employés.
Ainsi, il est fréquent de trouver des tables dont le plateau et la tablette d'entrejambe ont été changé, des tables de nuits dont le rideau est devenu trois tiroirs, des pieds cassés et entés. Tous ces éléments que l'expertise d'une table révèle, permettent de définir l'estimation et le prix de vente d'une table ancienne.

Cedric Henon
Furniture specialist

Illustration principale : table cabaret ouvrant par un tiroir écritoire, époque Louis XV. collection privée.

Laurent Hache and Cedric Henon expertise your bronze, furniture, ceramics, seat or sculpture, for sale, auction, insurance or inventory. You can contact us by phone +44 796 722 3146 or +33 1 40 26 05 46.




Send this article to a friend