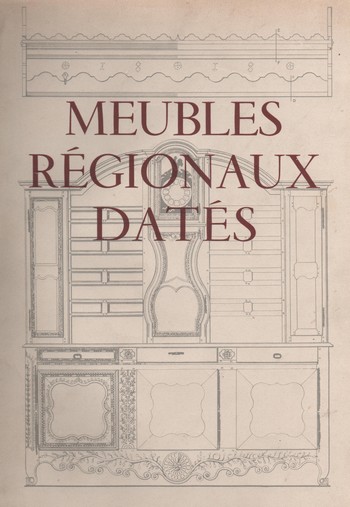 Today sold out Meubles regionnaux datés is a book by Suzanne Tardieu published in 1950. 60 years after its release, it remains a reference to learn how to date the French Regional furniture.

Chantier 909

Entre 1941 et 1946, fut organisée dans toute la France (à l'exception de l'Alsace et de la Lorraine) une enquête connue sous le nom de «chantier 909». Son but : recenser le mobilier des campagnes françaises avant sa disparition définitive.

45 enquêteurs partirent visiter chaque département, pour dessiner, photographier, mesurer le maximum de meubles encore conservés chez l'habitant. Les bois furent identifiés, les marques distinctives spécifiées. 13 784 monographies furent ainsi rédigées. Elles sont aujourd'hui conservées dans la documentation de l'ancien Musée national des arts et traditions populaires (MNATP).

Cette énorme banque de données sur le mobilier traditionnel français est une source d'information passionnante pour les amateurs de meubles anciens. De nombreux historiens l'ont exploité pour rédiger des livres de référence sur les caractéristiques du mobilier régional comme Bernard Deloche avec son ouvrage sur Le mobilier régional français : Lyonnais, Forrez, et vallée du Rhône. Parmi les nombreuses publications, Meubles régionaux datés, est le seul à s'intéresser en détail à la question des dates se trouvant sur les meubles, celles sculptées sur les traverses supérieures des armoires ou sur la façade des coffres.

Attention aux décalages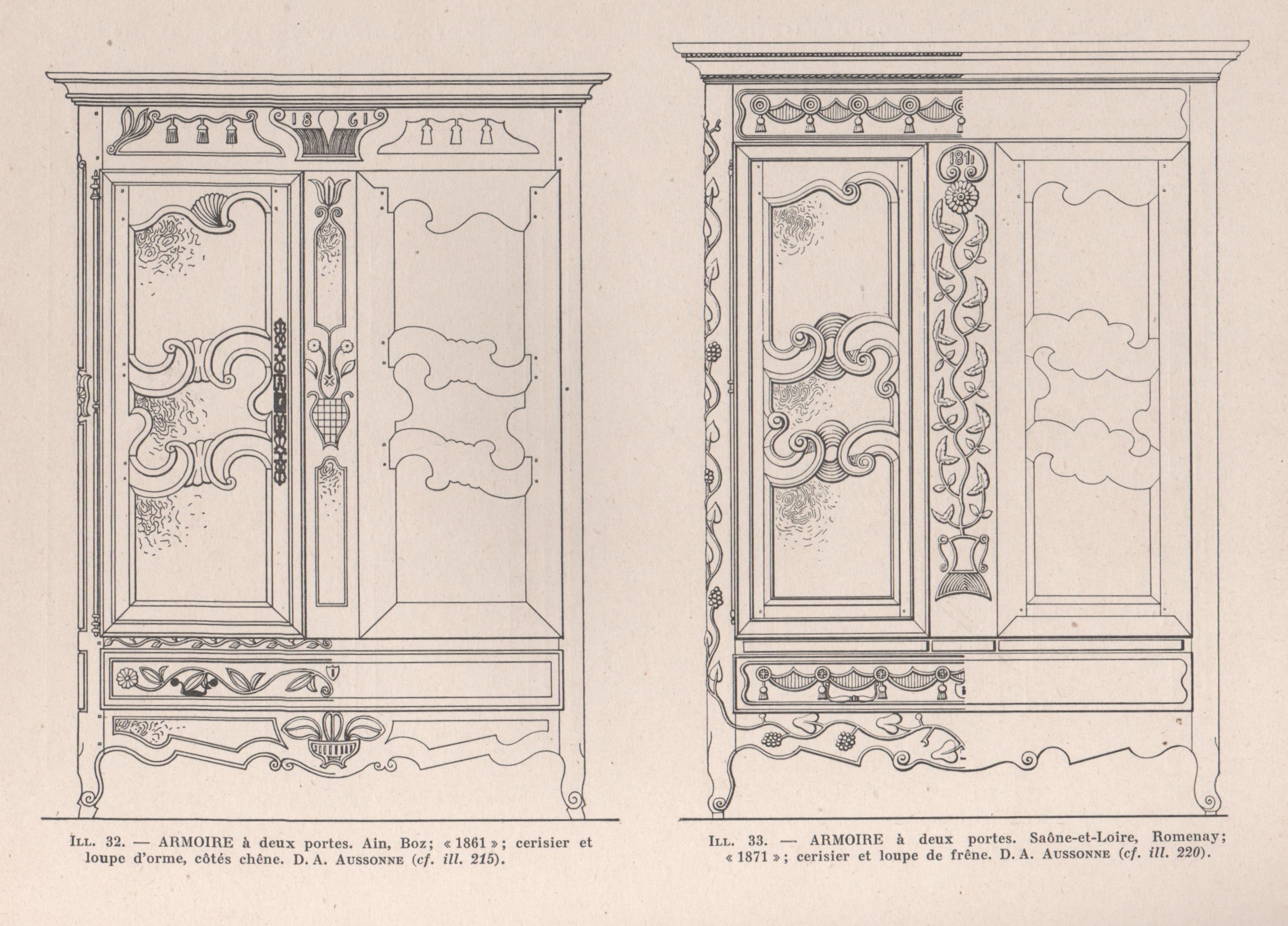 Armoires caractéristiques de la région bressane, datées respectivement en partie haute "1861" et "1871". Les panneaux des meubles de cette région sont souvent faits de loupes d'orme ou de loupes de frêne.

Premier constat : les meubles datés sont rares ! Ils représentent moins de 4% de l'ensemble des meubles référencés dans le fond 909. La plupart d'entre eux ont été réalisé entre 1750 et 1880, période que l'on peut considérer comme leur âge d'or.

Second constat : il existe d'importantes disparités régionales. On trouve par exemple un grand nombre de meubles datés en Bretagne et pratiquement pas en Provence pour des raisons que l'on a encore du mal à expliquer.

Mais au fait à quoi correspondent ces dates ? Le plus souvent à commémorer l'évènement pour lequel le meuble fut créé, dans la plupart des cas il s'agit de l'année du mariage de ses premiers propriétaires.

Dernier constat d'importance : il existe un décalage stylistique entre Paris et la Province. Ce décalage peut être très important et aller jusqu'à deux cents ans. On trouve en Province des meubles datés de style Louis XIII (style né au début du XVIIe siècle) en 1817 ou des meubles de style Louis XV (style né au début du XVIIIe siècle) en 1930.

Le + : le livre de Suzanne Tardieu est illustré de plus 350 photos et dessins de meubles datés. Cette documentation très importante aide aujourd'hui l'expert en meubles et objets d'art lorsqu'il expertise un meuble régional. Il pourra le mettre en comparaison avec les meubles datés du même type et affiner ainsi sa datation.


Laurent Hache

Cedric Henon and Laurent Hache expertise your bronze, furniture, ceramics, seat or sculpture, for sale, auction, insurance or inventory. You can contact us by phone +44 796 722 3146 or +33 1 40 26 05 46.




Send this article to a friend