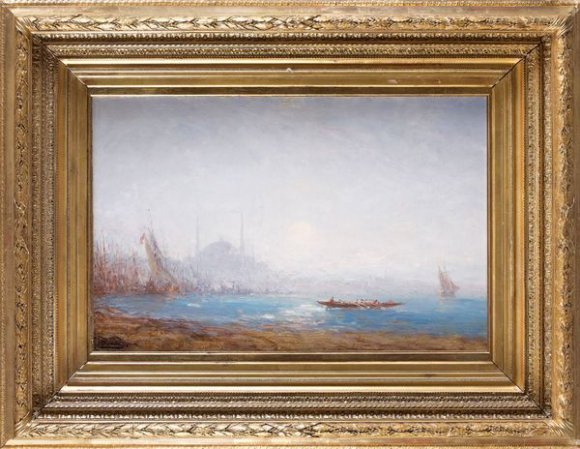 King of the auctions, Felix Ziem remains a relatively unknown artist to the public. He knew a quick notoriety and unusual fact: one of his paintings enters in the Louvre during his lifetime.
Our artist born in Burgundy in 1821 and studied architecture in Dijon and began a career as an architect in the Marseille region.
His meeting with the Duke of Orleans, eldest son of King Louis-Philippe marked a turning point in his life; in fact the latter is interested in Ziem drawings which prompted him to open a drawing school.
In 1840, he discovered Martigues and in 1842 he moved to Italy he visited until 1847. It is especially Venice, which influence his painting.
Back in France, he split his time between Paris and Fontainebleau forest where he met Theodore Rousseau and Jean-François Millet. If like his friends, he painted pastoral landscapes and scenes of everyday life, his paintings cannot be linked to the Barbizon school. It should be noted that this production has hardly the favors of buyers and collectors of the artist.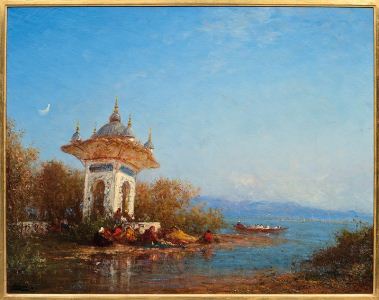 Meanwhile, he painted views of Venice and the Bosphorus in the Orientalist style but does not relate fully to this movement. His views are imaginary and based on drawings he brought back from his travels. Orientalist paintings are distinguished by the horizon placed very low as well as the importance given to the vertical lines which set him apart from its contemporaries.
Ziem died in 1911 leaving behind approximately 10,000 paintings, oils on canvas and oil on panel. Despite the success he met during his lifetime, he did not bind with other painters of his time and did not form student.
Stranger to the great artistic movements of the late nineteenth century, his paintings continue to be the dreamed Orient.


Cedric Henon, Fine Art Specialist.
© SVV Aguttes

Send this article to a friend