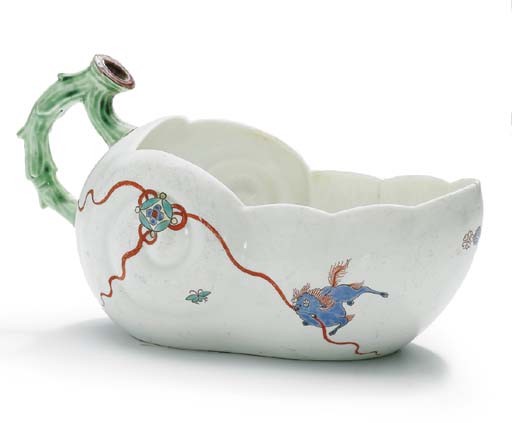 The story of this ceramic pot takes us back to the French late 17th century under Louis XIV. With its curious shape, it looks like a gravy boat. However, makes no mistake, the Bourdaloue is nothing else than a chamber pot exclusively design for women.
Famous like a chamber pot
Its odd name comes from Louis Bourdaloue (1632 – 1704), considered as one of the illustrious Jesuit fathers of the reign of Louis XIV. Nicknamed, in his lifetime, "the king of preachers and the preacher of the kings", Bourdaloue was an excellent orator who fascinated the Court and Paris society with his enlightened sermons.
To be sure not to miss a word of his preach, women came to mass with a chamber pot that they placed under their dresses with panniers. This is how it was called "Bourdaloue".
For women only
The Bourdaloue accompanies women in their everyday lives. It was used at home as well, by Queen Marie-Amelie for example, who owned one in her bedroom. It can be very useful during a travel too.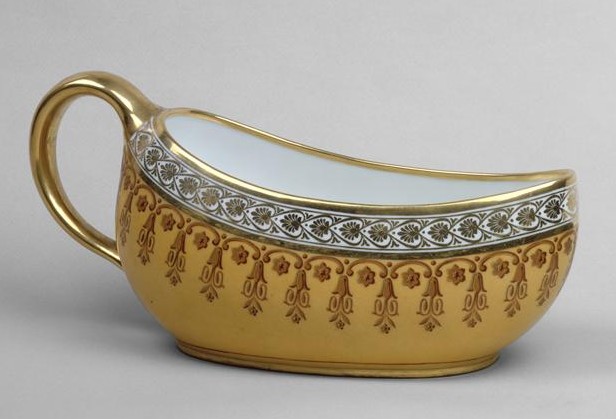 Bourdaloue from the Manufacture of Sevres in 1831, Nankeen background and gold Etruscan patterns, delivered at Grand Trianon, mentioned in 1839 in Princess Clémentine's chamber.
Copyright: Château de Versailles and Trianon.
To make its usage easier, its lines adapt perfectly to ladies' morphology: oval, bean or gondola shape, it has inward edges to avoid hurting.
The Bourdaloue lives its golden age between the reign of Louis XIV and the one of Louis-Philippe.
Often made with faience or porcelain, one of the oldest specimens kept in the French public collections is Chinese porcelain and dates from the third quarter of the 17th century.
This very feminine accessory is usually decorated with painted flowers. During the 18th century, very good quality Bourdaloues with natural flowers ornaments are manufactured in faience workshops like Strasbourg and Marseille, and porcelain ones like Sevres and Chantilly.
At the beginning of the 19th century, flowers are still fashionable; they are often gilt inside Etruscan pattern friezes on a white or coloured background.
A rare "shell" model
Most of the Bourdaloues are sold between € 200 and € 1 000, but, when a rare model is in question, with its shape and decoration, the price can soar up to € 20 000.
The most researched Bourdaloues are particularly shaped: they look like a snail shell. In 2006, one of these rare spiral models made in Vincennes around 1752, was sold € 25 000 by the auction house Coutau-Bégarie.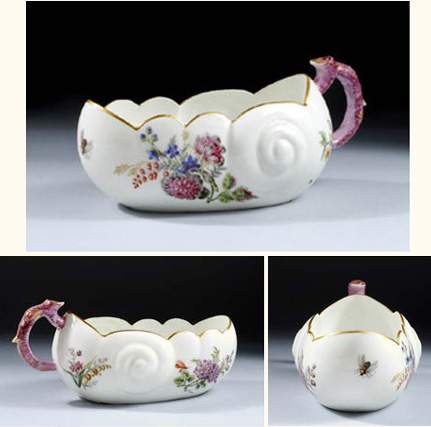 Stylistically speaking, the most exceptional Bourdaloues are the ones on which flowers are not the principal decoration. When an animal or an insect is depicted on it, the price can be doubled.
All his life long, Louis Bourdaloue preached against excesses like gluttony sin, but he had another surprising posterity. His name was given to a Parisian street where exercised a pastry chef, around 1900, who turned famous for his delighting pear-based dessert, nowadays known as Bourdaloue pie.



Laurent Hache



Illustration principale : Courtesy of Christie's.

Send this article to a friend