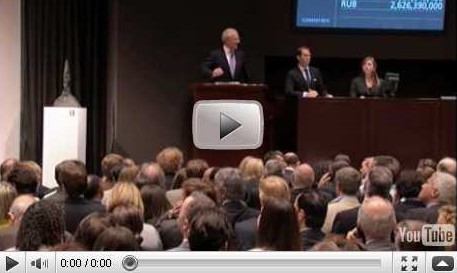 Explore the world of auctions through a selection of 4 videos. Discover auctioneers worldwide in the heat of the action. Good viewing.


106,5 millions de dollars pour un Picasso

"Nu au plateau de sculpteur", tableau de Pablo Picasso de 1932 est l'oeuvre d'art la plus chère jamais vendue aux enchères. Elle fut vendue par Christie's New-York le 4 mai dernier.



Communiquer différemment

Internet est loin d'être le support de communication N°1 des commissaires-priseurs de l'Hexagone. Pourtant des initiatives naissent. Philippe Rouillac, commissaire-priseur à Cheverny et Vendôme fait ses premiers pas...



"Vente de garage" à Montréal

Patrick Blaizel, encanteur à la Maison des encans de Montréal, possède un style inimitable...



Les commissaires-priseurs US font leur show

La vente de bétail est un art aux États-Unis. Chaque année, les meilleurs commissaires-priseurs américains se rencontrent pour un duel d'anthologie...

Cedric Henon and Laurent Hache expertise your bronze, furniture, ceramics, seat or sculpture, for sale, auction, insurance or inventory. You can contact us by phone +44 796 722 3146 or +33 1 40 26 05 46.




Send this article to a friend