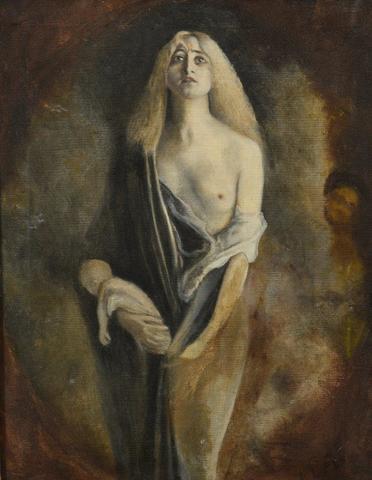 On the 19th June, Sequana auctioneer in collaboration with our company specialized in free valuation and free appraisal Authenticite will auction in Rouen an oil on canvas from Faust by Pascal.
Pascal DAGNAN-BOUVERET (1852 – 1929)
Marguerite au sabbat, épisode tiré de Faust
circa 1911
Huile sur toile - non signé
H_52 cm - L_40cm
Estimate: 1,000/1,500 euros
Provenance : vente Hôtel Drouot Paris, Maître Coutau-Begarie, 23 mai 2014
Notre tableau est une esquisse pour l'œuvre qui est conservée au musée d'Art et d'Histoire de Cognac. Ce portrait de Marguerite au sabbat est inspiré d'un épisode de la légende de Faust. Marguerite, désespérée de s'être laissé séduire par Faust a tué l'enfant né de cette union et s'apprête à mettre fin à ses jours. Mais elle est jetée en prison. Faust, qui a abandonné la jeune femme pour se tourner vers d'autres plaisirs, assiste à un sabbat en compagnie de Méphistophélès. Soudain, sortant des feux de l'enfer, il a une apparition : Marguerite, pâle comme un spectre se dresse, son enfant mort entre les bras. Cette vision va le conduire au repentir. Dagnan-Bouveret fixe cet instant en restant très proche du texte de Goethe. Le modèle qui pose pour ce tableau est Suzanne Delvé, comédienne en vogue dans l'entre deux-guerres.

Send this article to a friend