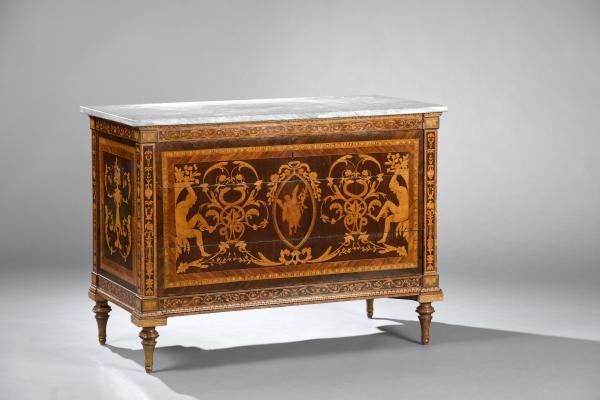 Guillaume Le Floc'h auctioneer in collaboration with our experts specialized in free valuation and free appraisal will auction on the 2nd October in Saint-Cloud, a late 18th century Italian parquetry chest of drawers.
Commode rectangulaire marquetée de bois clair sur fond d'amarante dans des encadrements de bois de rose et frises d'oves. Les montants en pilastre et les traverses sont ornés de rinceaux feuillagés, vases et caducées. Elle ouvre à trois tiroirs sans traverses richement marquetés de serpents enlacés et atlantes autour d'un médaillon central à décor d'une renommée (restaurations, légers accidents).
Italie, fin du XVIIIe siècle.
Elle repose sur quatre pieds toupie et est coiffée d'un plateau de marbre gris.
Haut. : 93 cm - Larg. : 125 cm - Prof. : 93 cm

Notre commode doit être rapprochée des meubles produits à Milan à la fin du XVIIIe siècle dans les ateliers de Giuseppe Maggiolini (1738-1814). Une commode similaire exécutée par Maggiolini est reproduite dans G. Morazzoni, Il Mobile Intarsiato di Giuseppe Maggiolini, Milan, 1957, Pl. LXV.

La forme très particulière de notre commode nous incite cependant à nous tourner vers celui qui fut l'élève le plus brillant de Maggiolini, Giovanni Maffezzoli. Plusieurs commodes de Maffezzoli se caractérisent par trois grands tiroirs sans traverses avec un motif sur la façade des tiroirs dans un grand encadrement, ce que l'on retrouve dans notre meuble. Giovanni Maffezzoli (1776-1818), marqueteur italien, meilleur élève de Maggiolini, réalisa en particulier plusieurs commodes marquetées de ruines d'après Piranèse. Ses œuvres sont très fréquemment attribuées à son Maître.
Estimate: 12,000/18,000 euros

Send this article to a friend