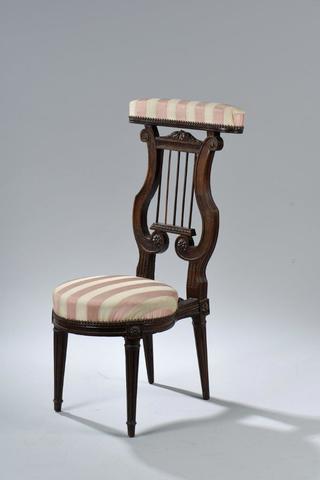 On the 19th June, Sequana auctioneer in collaboration with our company specialized in free valuation and free appraisal Authenticite will auction in Rouen an rare Louis XVI ponteuse chair by Georges Jacob.
Chaise voyeuse à dossier lyre
en bois naturel mouluré et sculpté de rosaces et feuilles de lauriers, l'assise ronde détachée à barrette tournée. Elle repose sur quatre pieds fuselés et cannelés.
Attribuée à Georges Jacob
Epoque Louis XVI
H_93 cm - L_39 cm - l_58 cm
Garniture de tissu rayé rose et crème (un montant arrière rapporté, accidents)
Note : Une paire de chaises très proches estampillées Georges Jacob fut vendue par l'étude Kohn, le 28 juillet 2011, lot 97 à Monaco.
Le dossier de notre siège est caractéristique du modèle utilisé par Georges Jacob :
- Une chaise voyeuse vendue à Paris le 10 juillet 1995, lot 248 chez Beaussant Lefèvre, portant une ancienne étiquette "pour le salon de Monsieur Bieaimé".
- Une paire de chaises voyeuses vendues chez Christie's à Monaco le 18 juin 1989, lot 188 portant une ancienne étiquette "pour le salon de Monsieur de Septeuil".
- Une paire de chaises ponteuses provenant du mobilier du salon des jeux de Louis XVI à Saint-Cloud vente Ader, Picard, Picard, Tajan, 5 décembre 1979, lot 59.
On distingue les chaises ponteuses destinées aux hommes, sur lesquelles on s'assoie à califourchon, des chaises voyeuses à genoux qui permettaient aux dames de suivre une partie de cartes en s'agenouillant, les coudes appuyés sur une manchette rembourrée.
Georges Jacob (1739-1814) fut reçu maître en 1765. Sa clientèle était des plus prestigieuses et comptait, en autre, le Garde Meuble de la Couronne ainsi que pour le mobilier privé de la reine Marie-Antoinette. Il travailla également pour les cours étrangères notamment bavaroises. Ses œuvres sont présentes dans tous les musées nationaux et internationaux.
Estimate: 700/900 euros

Send this article to a friend