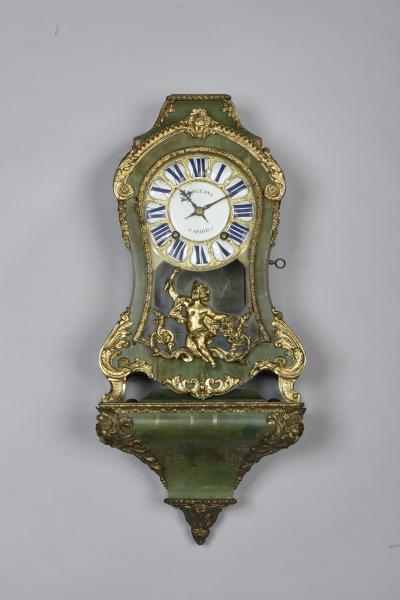 Guillaume Le Floc'h auctioneer in collaboration with our experts specialized in free valuation and free appraisal will sell at auction, in Saint-Cloud on the 2nd October, a French Louis XV clock with its bracket.
Cartel d'applique et sa console en placage de corne teintée verte, le cadran estampé à chiffres romains en émail, riche garniture de bronze ciselés et doré à décor d'espagnolettes, feuilles d'acanthe, enroulements et oves, la lunette présente un amour au brandon (accidents et manques).
Signé MANGEANT à Paris.
Époque Régence.
Haut. : 73 cm - Larg. : 32 cm - Prof. : 27 cm
Louis Mangeant, reçu Maître horloger en 1734, sa carrière fut particulièrement longue puisqu'il signa plusieurs pendules de style Louis XVI dont des pendules de forme obélisque en bronze doré.
Estimate: 1,400/1,600 euros

Send this article to a friend