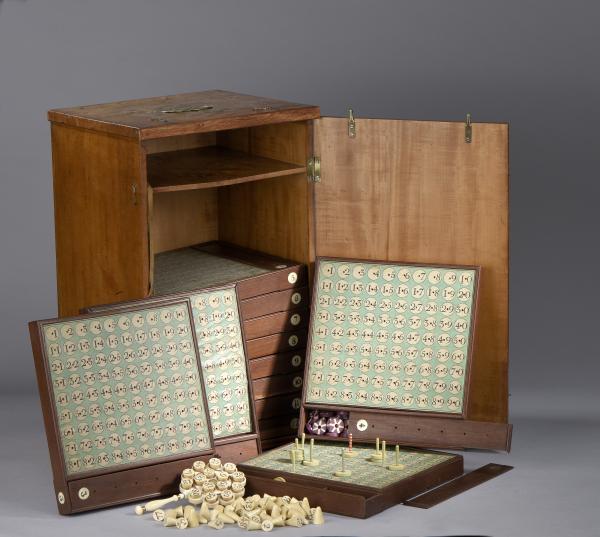 Guillaume Le Floc'h auctioneer in collaboration with our experts specialized in free valuation and free appraisal will auction on the 2nd October in Saint-Cloud, a Loto Dolphin.
Jeu de loto, dit du Dauphin. Loto-Dauphin comprenant douze plateaux en bois et leur casier de rangement. Compartiment à glissière à part accueillant les jetons de mise en nacre, les fiches et figures en os. Coupelle perforée de présentation en os et or jaune avec quinze trous et sac avec pions coniques numérotés en os. Ensemble rangé dans un grand coffret en merisier ouvrant par un battant sur l'avant. Poignée en laiton sur le dessus (légers manques dans le laiton de la coupelle, usures).
Fin XVIIIe ou début XIXe siècle.
Haut. : 56 cm - Larg. : 30 cm - Prof. : 30,5 cm

Le Loto Dauphin a été créé à la fin du XVIIIe par le tabletier Vaugeois pour pallier à la monotonie des lotos classiques. L'histoire raconte que c'est Louis XVI en personne qui aurait inventé ces complications pour amuser son fils le Dauphin. Chaque joueur prend un plateau numéroté et perforé de 1 à 90. Il place ses bâtonnets et ses figures, dont le dauphin sur le plateau, aux emplacements de son choix. A l'issue du tirage des quinze numéros, les cônes sont placés sur la coupelle. Les gains varient en fonction de la nature des fiches et figures placées sur sa grille, le numéro marqué par le dauphin étant le plus intéressant. Le gagnant est celui qui finit en premier son plateau. Ce jeu a fait les belles soirées de Versailles et du Trianon dans le cercle de Marie-Antoinette. Après une période d'oubli, il redevint très à la mode sous la Restauration.
Estimate: 800/1,200 euros

Send this article to a friend