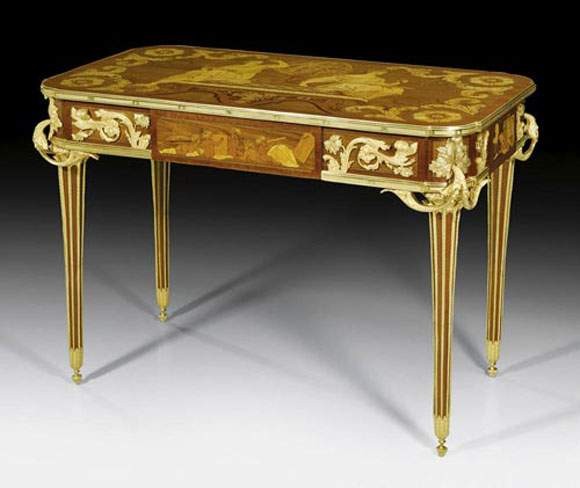 70 000 € for a Louis XIV Boulle cabinet, 40 000 € for a small table from Marie Antoinette. But those furniture are only copies. How to explain those prices: the quality, the richness of their materials and their rarity.


L'impératrice Eugénie, comme les grands de son époque, se passionne pour Marie-Antoinette. L'aristocratie européenne jette son dévolu sur les Arts du Siècle des Lumières. Les meubles d'époque Louis XIV, Louis XV et Louis XVI se vendent à prix d'or. Problème : Les plus belles pièces se trouvent dans les musées et collections royales européennes. Pour compléter leurs collections, les riches aristocrates commandent des copies « à l'identique ».

Des fabricants réputés…

Lord Hertford, Le Baron Double, Le prince de Radziwill, les Rothschild, … deviennent les principaux clients des maisons de qualité. Les expositions universelles de 1867, 1878 et 1889 portent au pinacle les fabricants de meubles et de bronzes comme Winckelsen, Dasson, Beurdeley, et Zwiener. « Si n'étaient certains menus détails de facture qui révèlent à l'œil très expérimenté une origine moderne, on pourrait croire qu'ils ont dévalisés nos palais nationaux », note le grand historien de l'art, Henry Havard, lors de sa visite de l'exposition universelle de 1889.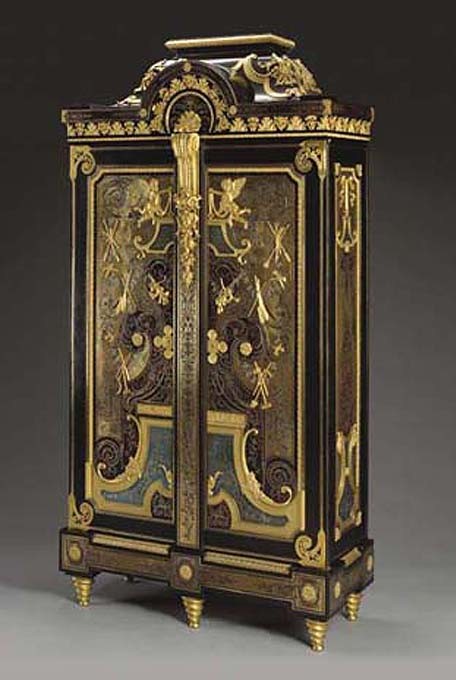 71 700 $ (Christie's, New-York en 2003), une copie réalisée en 1867 par Charles-Guillaume Winckelsen (1812-1971). Copie "parfaite". Imitation d'une armoire d'époque Louis XIV, conservée au musée du Louvre, chef-d'oeuvre du célèbre ébéniste : André-Charles Boulle (1642-1732).

S'entourant d'habiles artisans, héritiers d'un savoir-faire ancestral, les fabricants ont parfois l'autorisation de prendre les mesures du meuble authentique et de faire des moulages de ses bronzes. La copie créée, est très proche de l'original. Son bâti et ses assemblages sont modernes mais son aspect pourra confondre l'amateur.

… et inspirés

Les élèves ont même dépassé le maître. A l'époque, ces copies « à l'identique » font dire à propos de ces fabricants qu'ils étaient supérieurs en maitrise aux ébénistes copiés : Boulle, Cressent, B.V.R.B, Oeben, Riesener, Weisweiler.
Les fabricants ne font pas que copier. Ils développent en parallèle une gamme de meubles et de bronzes "inspirés" par les créations des meilleurs ébénistes Louis XIV, Louis XV et Louis XVI. Ces meubles "d'inspiration", ces objets d'art de "composition", ont aujourd'hui la cote. Ils témoignent de la créativité de leurs auteurs.





168 000 € , Une paire de commodes-dessertes. Commodes "inspirées" de style Louis XVI. Réalisées par Henry Dasson (1825-1896) en 1882, elles s'inspirent de commodes-dessertes créées par Adam Weisweiler (1744-1820) à la fin du 18ème. siècle. Vente Sotheby's, 2 octobre 2008.

Une génération de fabricant : Sormani, Lexcellent, Linke, succède à la première. La relève préfère la fantaisie Louis XV et Louis XVI à la copie. Comme leurs aînés, elle allie créativité et savoir faire. Elle triomphe à l'Exposition Universelle de 1900 aux côtés des défenseurs de l'Art Nouveau.



Les œuvres de ces « copistes » sont peu considérées par les musées internationaux et amateurs d'art français. On leur reproche leur manque d'originalité. Les anglo-saxons seront les premiers à les collectionner. Ces dernières années, elles font le bonheur des collectionneurs russes.


Illustration principale :
Près de 40 000 € (Vente Koller, 19 juin 2008) une table de style Louis XVI, réalisée par François Linke (1855-1946) en 1890. Il s'agit d'une copie de la "Table des Muses", réalisée en 1771, par le célèbre ébéniste Riesener (1734-1806).


Feel free to contact our fine art specialists if you want to appraise your works of art. We also assist you in the selling of your works of art : consultancy.





Send this article to a friend