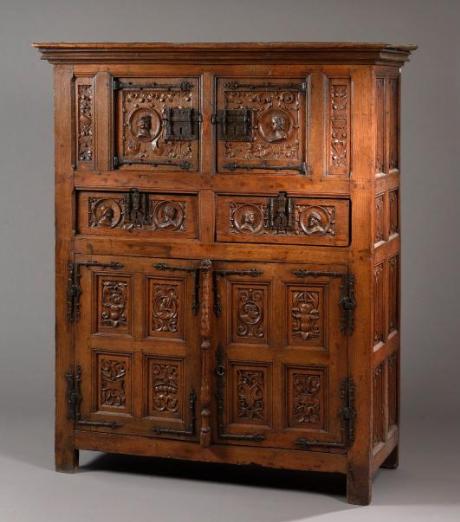 Guillaume Le Floc'h auctioneer in collaboration with our experts specialized in free valuation and free appraisal auctioned a early 16th century wedding wardrobe from the Jacqueline Boccador collection the 9th June in Drouot.
Meuble de mariage en chêne mouluré et sculpté de profils d'homme et de femme dans des médaillons, d'arabesques et de grotesques. La façade ouvre par quatre vantaux et deux tiroirs. Les flans panneautés sont ornés de plis de serviette (plateau supérieur et corniche rapportés, base modifiée, traces d'insectes xylophages, importantes restaurations). Riche ornementation en fer forgé : pentures, serrures et charnières.

Première moitié du XVIe siècle.

Haut. : 163 cm - Larg. : 134 cm - Prof. : 55 cm


Bibliographie : BOCCADOR Jacqueline, Le Mobilier Français du Moyen Age à la Renaissance, 1996, Éditions d'art Monelle Hayot, Saint-Rémy-en-l'Eau, pp. 78 à 81 (détails des vantaux sur la jaquette).
Estimate: 8,000/10,000 euros
Sold for 20,000 euros

Send this article to a friend