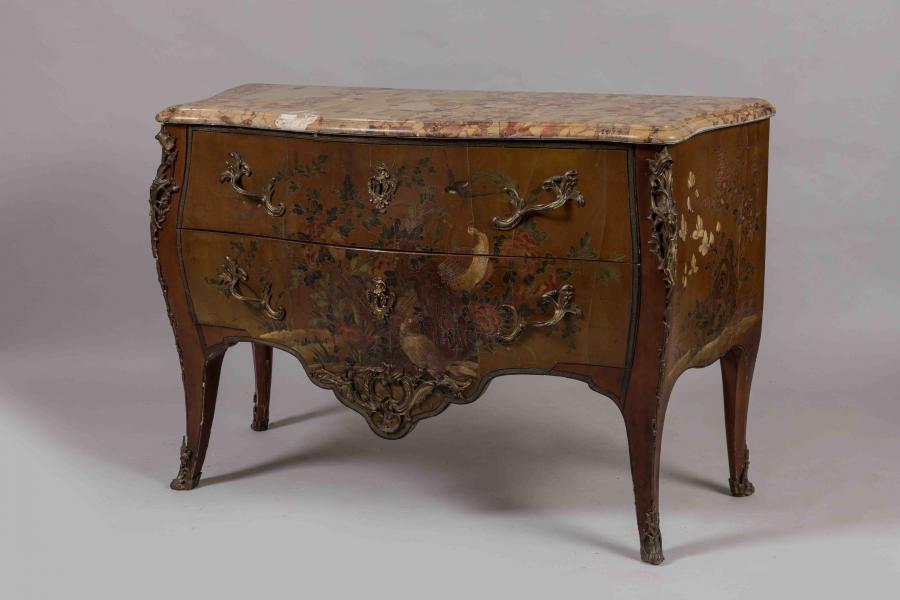 Karl Benz auction house, in Plerin, in collaboration with our experts specialized in free valuation and free appraisal sold at auction a French Louis XV style lacquered commode, Saturday 16th October in Plerin.
COMMODE galbée ouvrant par deux tiroirs sans traverse à décor de vernis européen polychrome sur fond mordoré. Riche ornementation dans le goût chinois d'oiseaux branchés et volants, fleurs, feuillages et rochers percés. Garniture de fins bronzes ciselés et dorés tels que chutes, poignées de tirage, entrées de serrure, tablier et sabots. Elle est coiffée d'un plateau de marbre brèche d Alep mouluré (accidenté).
Style Louis XV.
Hauteur : 88 cm. Largeur : 126 cm. Profondeur : 54 cm. (Accidents, petits manques, et fentes).
Estimate: 800/1,200 euros
Adjugé : 850 €

Send this article to a friend