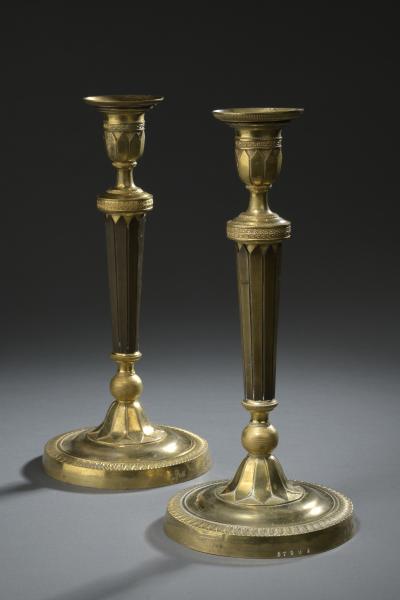 Guillaume Le Floc'h auctioneer in collaboration with our experts specialized in free valuation and free appraisal will auction a pair of French Imperial patinated and ormolu candlesticks from tha Trianon palace then the Palais Royal and the Hotel de la Presidence in Versailles, on Sunday 17th February in Saint Cloud.
Paire de bougeoirs en carquois en bronze patiné et doré (usures). Le fût à pans coupés, ciselés de frises de grecques, de feuillage et de palmettes repose sur une base circulaire (bosses).
Attribués à Ravrio.
Ils portent les numéros d'inventaire du Trianon, du Palais royal et de l'Hôtel de la Présidence : T.O.N 1245 / P.R.2342 / H.P 2216 / 57105 / 20752
Époque Empire.
Haut. : 27,5 cm

Nos bougeoirs font partie d'une suite de quatre, livrés pour le Trianon, la seconde paire ancienne collection Le Fuel. Envoyés au Palais Royal, ils furent séparés en deux paires.
La paire que nous présentons décora l'Hôtel de la Présidence à Versailles dans le dernier quart du XIXe siècle.

On peut rapprocher nos bougeoirs de deux paires similaires, en bronze doré, livrées par Ravrio en 1809 pour le salon du 3e logement de ministre n°5, aile des Ministres, au palais de Fontainebleau.

Bibliographie :
«Musée national du château de Fontainebleau, Catalogue des collections de Mobilier, Pendules et bronzes d'ameublement entrés sous le Premier Empire», Jean-Pierre Samoyault , Tours 1989, RMN Ed., p.197.
Estimation: 2,000/3,000 euros

Send this article to a friend