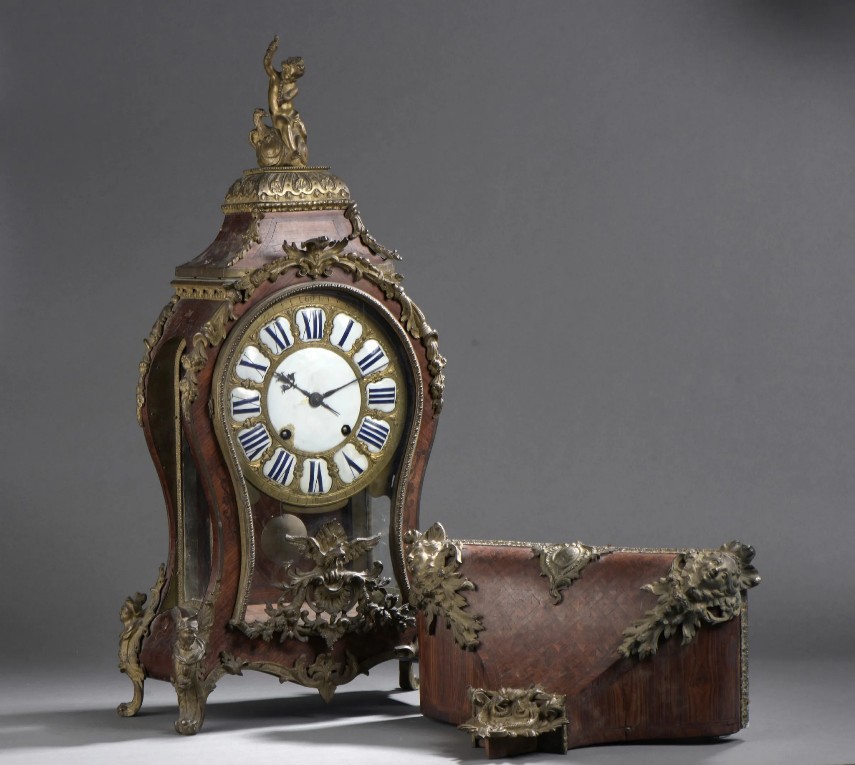 Sequana auctioneer in collaboration with our experts specialized in free valuation and free appraisal will auction a French Louis XV period ormolu and parquetry clock signed Perache, Saturday 10th July in Rouen.
Cartel et sa console d'applique de forme violonée, en placage de bois de violette marqueté de rinceaux d'amarante, la console à façade en treillage, le cadran circulaire à douze plaques d'émail blanc à chiffres romains en bleu et centre en émail blanc (accidents). Le mouvement signé Jean-Pierre Pérache Paris, reçu maître en 1733. Importante garniture de bronze ciselé et doré tels que putto à l'aigle, dôme aux coquilles et feston, feuilles d'acanthe, coquilles et cornes d'abondance et phénix, sabots et chutes de la console en espagnolette.
Epoque Louis XV
Le cartel : H_81 - L_39 cm - P_18,5 cm
La console : H_31 cm - 44,5 cm - P_22 cm
Note :
Important maître horloger de la période Louis XV, Jean-Pierre Pérache avait ses ateliers au Palais Royal. Il travailla pour une riche clientèle privée comme l'indiquent les inventaires après décès de grands collectionneurs, en particulier le duc de Nevers et la veuve de Charles de Savalette de Magnanville, fermier général et directeur de la compagnie des Indes.
En 1752, il fournit pour les Menus Plaisirs, une pendule à ressort allant 15 jours, pour 300 livres, vraisemblablement inventoriée en 1787, « Une pendule de cheminée à éléphant en bronze doré d'or moulu, sur terrace ornée de rocailles, tronc d'arbre, limaçon portant sa coquille, d'un dragon et d'un lézard, terminée par un indien armé d'un arc et d'un carquois,…, par Pérache – A l'ebénisterie ».
Estimate: 3,000/4,000 euros

Send this article to a friend