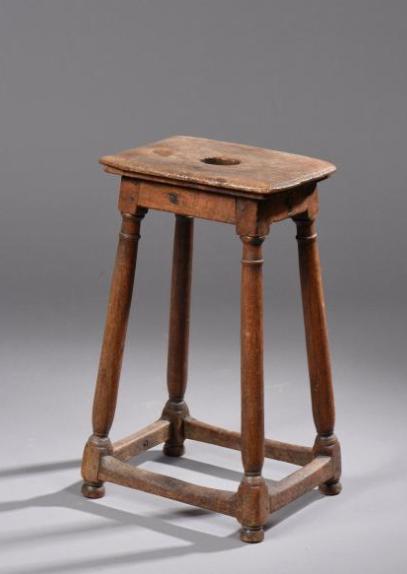 Guillaume Le Floc'h auctioneer in collaboration with our experts specialized in free valuation and free appraisal auctioned a rare 16th century French walnut stool form the Jacqueline Boccador collection the 9th June in Drouot.
Tabouret en noyer, l'assise carrée présentant une prise en son centre repose sur quatre colonnettes baguées divergentes réunis par une entretoise carrée (usures).
Fin du XVIe siècle.
Marques au feu : couronne et fleur de lys.
Haut. : 55 cm - Larg. : 32 cm - Prof. : 24 cm
Porte une étiquette manuscrite au crayon : « Château de Gourdon ».
Bibliographie : BOCCADOR Jacqueline, Le Mobilier Français du Moyen Age à la Renaissance, 1996, Éditions d'art Monelle Hayot, Saint-Rémy-en-l'Eau, page 307.
Estimate: 500/700 euros
Sold for 1,500 euros

Send this article to a friend