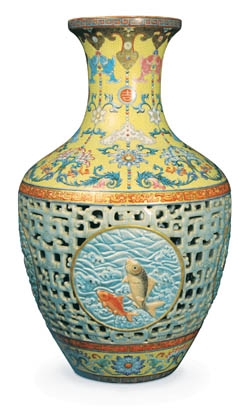 On 11 November in Ruislip near London, a Qianlong Chinese vase circa 1740 was auctioned for a staggering £43 million, £51.6 M including buyer premium. Besides price, this vase is the first work of art that is neither a painting nor a sculpture to enter into the top ten most expensive works of art sold at auction in the world. This includes paintings by Picasso, Van Gogh, Renoir, Klimt and Rubens, a sculpture by Giacometti and ninth position our vase.
With its reticulated construction, with a double surface and one open-worked, to which we can add certain decorative elements, this vase is typical of the Tang Ying manner who directed the imperial manufacture at the beginning of Qianlong's reign. This period distinguishes itself with the very high level reached by Chinese ceramists of the time.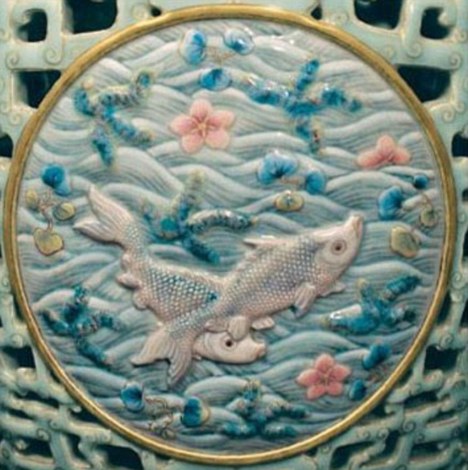 Two medals, on each side, depict different swimming fishes inside imaginary waters and the imperial seal is affixed on the basis. Considering these elements, this porcelain was almost certainly created for the Summer Palace or the Forbidden City.
It was probably stolen after the Summer Palace vandalizing by the English troops after the second opium war in 1860. It ended on the top of a wardrobe in a small house of London suburbs where a local auctioneer, Bainbridges, usually used to auctioning lots under £500, discovered it.
Cautiously estimated at £800.000 - £1.000.000, it aroused many worldwide amateurs, collectors and dealers' interest. Following its preview in London, it was expected between £18 and £30 million. After half an hour of bidding, during which the sellers went out because of the high tension, the hammer fell at £43 million.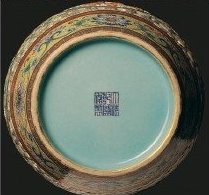 Several elements allow us to understand better this result:
This vase corresponds to the actual taste on the Chinese market and appears after an exhibition dedicated to this type of pieces in Beijing.
Its imperial origin.
Its perfect condition.
Its high quality decoration and the rarity of reticulated vases.
Let's mention that, since a few years, Chinese are very much inclined to buy exceptional pieces that left their country, and the price is not an obstacle to this search.
To finish, our vase probably would not have been sold better in a famous auction house or even in Honk-Kong.

Cedric Henon
Fine Art Specialist

© Bainbridges

Cedric Henon and Laurent Hache expertise your bronze, furniture, ceramics, seat or sculpture, for sale, auction, insurance or inventory. You can contact us by phone +44 796 722 3146 or +33 1 40 26 05 46.




Send this article to a friend