Lehman Brothers is back but this time at auction. Sotheby's New York on the 25th and Christie's South Kensington in London on the 29th sold their old masters, modern and contemporary paintings, bronzes, works of art, books, porcelain and souvenirs.
Have a look on some of the results.

Art Contemporain

L'art contemporain dont le temps fort fut la vente de New York est marqué par de nombreux records mondiaux, retenons en particulier :

Une encre et peinture acrylique sur toile marouflée sur panneau de la jeune artiste Ethiopienne Julie Mehretu, née en 1970, intitulée Sans Titre 1 et mesurant 152 x 213 cm, qui fut adjugée $1 022 500 contre une estimation de 600 000 à 800 000 dollars.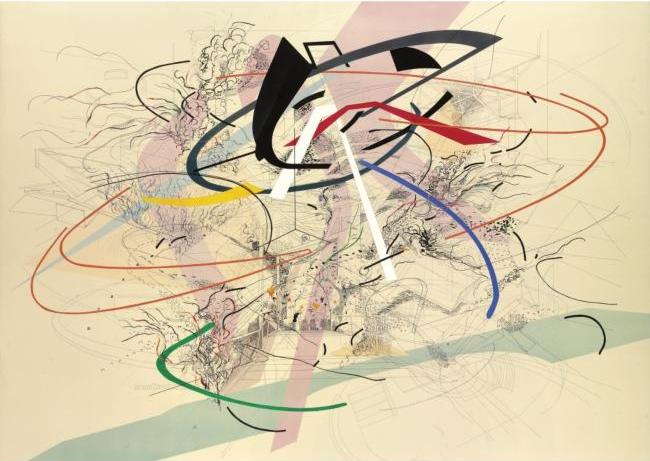 © Sotheby's

Déception par contre pour l'artiste contemporain qui fut durant quelques années le plus coté et qui semble avoir perdu de son intérêt pour les amateurs et collectionneurs. Ainsi, une œuvre de Damien Hirst, intitulé « We've got style » et daté de 1993 n'a pas trouvé preneur alors qu'elle était le lot phare de la vacation avec une estimation de 1 million de dollars. Il semble que la valeur des œuvres de Damien Hirst soit en chute libre.

Tableaux anciens et gravures

C'est une huile sur toile de Théophile Poilpot (Paris 1848-1915) qui déchainait les passions à Londres avec « L'embarquement de La Normandie au Havre ». Ce tableau trouvait preneur à £67 250 contre une estimation de £20 000 à £30 000.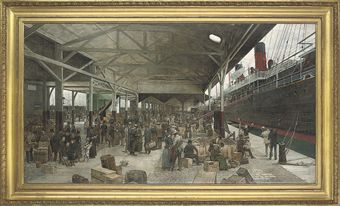 © Christie's

Une aquatinte de Appert d'après Chapuis et datant du milieu du XIXème siècle se vendait £1 500 contre une estimation de £400 a 600. Son titre « Aspect Général de Londres, vue pris de L'Abbaye de Westminster » séduisit certainement de nombreux amateurs de sa Majesté Elisabeth II.

Bronzes animaliers

Le Steeple-chase, un bronze de la fin du XIXème siècle de Isidore-Jules Bonheur (1827-1901) mesurant 92 x 96 cm décrochait £34,850 conforment a l'estimation. Il faut souligner les dimensions exceptionnelles de ce bronze particulier naturaliste dans son traitement.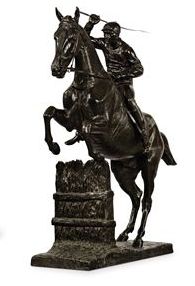 © Christie's

Une épreuve en bronze du « Lion qui marche » d'Antoine-Louis Barye (1795-1875), datant de la fin du XIXème, était adjugée £6,875 contre une estimation de £2 500 à £4 000.

Livres

Intéressons nous pour cette section aux ouvrages français.

Deux lots retiendront particulièrement notre attention.
Le premier comprenant un ensemble de 100 volumes avec entre autre « Œuvres Choisies » de Alain René Le Sage publié à Amsterdam en 1783 et comptant 15 vols in 8, s'envolait à £3 000 contre une estimation de £600 à £900.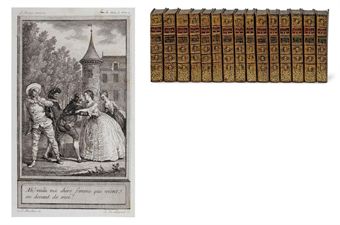 © Christie's

Le second composait de 97 volumes et comprenant notamment les 27 tomes de l'Histoire du Bas-Empire en commençant a Constantin le Grand de Le Beau publié à Paris en 1757, in 12 étaient adjugés £6 250 pour une estimation de £400 à £600.

De ces deux résultats, doit on conclure que Christie's estime les livres en langues étrangères au mètre ?

Souvenirs

Retenons en particulier cette plaque commémorant l'ouverture des bureaux de Lehman Brothers à Canary Warf par Gordon Brown vendue £28 750 contre une estimation de £1000 à £1500 (illustration principale, © Christie's). La nostalgie ne semble pas avoir de prix.


Ces quelques résultats nous permettent de voir que les acheteurs ont privilégié les œuvres de qualité. Il ne semble pas que le nom Lehman Brothers ait tiré les enchères hormis pour les objets souvenirs. On soulignera la cote soutenu des gravures qui sur la place parisienne atteignent rarement de tels prix.
Pour conclure, le marché de l'art demeure très actif et ceux malgré ou à cause de la crise boursière et les acheteurs de belles pièces nombreux.

Cedric Henon, Fine Art Specialist

Cedric Henon and Laurent Hache expertise your bronze, furniture, ceramics, seat or sculpture, for sale, auction, insurance or inventory. You can contact us by phone +44 796 722 3146 or +33 1 40 26 05 46.




Send this article to a friend