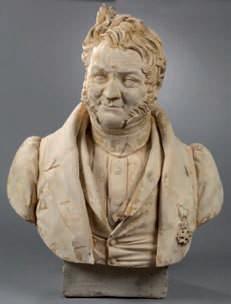 Good news: the French art market is in great shape! In 2010, the product sold by the 139 Drouot's auctioneers has jump by nearly 6% to 440 M €. When, in the meantime, Sotheby's France saw an increase of 78% with just over € 175 million!
In spite of the crisis, art upholds its gilt edged security favoured by the French.
To start a good year, we selected a series of good quality art items and pieces of furniture for less than € 1,000, and we invite you invest quickly! They'll be sold at auction next Saturday by the office Philocale at Olivet (45).
Less than € 250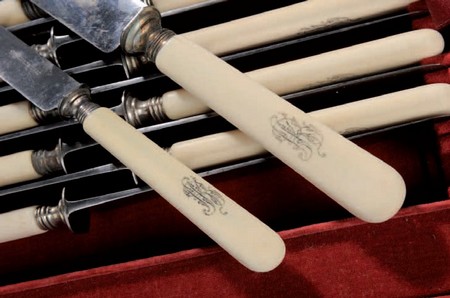 Company longevity is often linked with the quality of its production. In operation for about 150 years, Cardeilhac could be a perfect illustration of it. It was one of the important Parisian specialists in cutlery and gold work, until its buyout by the famous Maison Christofle in 1951.
Well-finished goods left its workshop: canteen of cutlery, display stand, teapot, coffee pot, cup, and also these 12 table knives and 24 cheese knives (lot 77). The whole, estimated at € 150 - € 250, is offered in its original case, which guaranties a good invest.
Less than € 500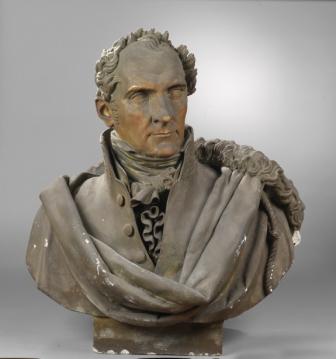 Dominique Maggesi (1807 – 1892) was a sculptor, native to Italy and living in Bordeaux. He distinguished himself by representing in bust contemporary politicians as Louis-Philippe, or antique Greek philosophers like Homer.
Five antique plaster castings of his sculptures will be presented at the sale this weekend. Even if you do not want to invest, you shall take advantage of this occasion to see these plasters, as the only way of admiring so many works of the artist is to go to the Museum of Fine arts in Bordeaux. The lot 183 is particularly interesting. Estimated € 300 to € 500, this bust will probably grab the attention of fashion amateurs. Powerfully decorative, it is about 75 cm high.
Less than € 1,000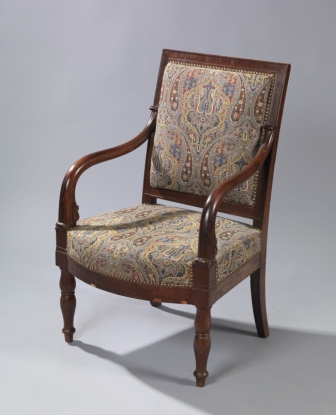 First half of the 19th century furniture is often made of beautiful woods, and depicts sober shapes. The most beautiful chairs produced during this era were often made in Jacob brothers' workshop who worked for Napoleon or Louis-Philippe.
The latter was certainly the owner of the lot 181 of the sale, a mahogany flat-backed armchair stamped IACOB. The interior crosspieces of the seat show old inventory marks of his collections: "crowned LP" or "crowned PR" which confirms that this piece was kept at the Palais-Royal.
Its low estimate is € 800, and it seems quite modest compared with its famous author and illustrious owner. As a comparison, any well-known contemporary designer's seat is to sell in galleries for more than € 1,000, and even when it is a matter of enlarged edition.
Informations pratiques :
Catalogue en ligne : consulter ou télécharger gratuitement le catalogue de la vente (Dessins, tableaux, bijoux, argenterie, jouets, sculptures, meubles et objets d'art anciens) en cliquant ICI.
Expositions : le vendredi 14 janvier de 12h à 19h et le samedi 15 janvier de 10h30 à 12h.
Vente : le samedi 15 janvier 2011 à 14h30
Lieu: l'orangerie du château de La Fontaine d'Olivet, 1379 rue de la reine blanche, 45 160 Olivet.
Informations complémentaires : n'hésitez pas à nous contacter par téléphone au + 33 (0) 1 40 26 05 46 / +44 (0)796 722 3146 ou par e-mail en cliquant ICI.
Sources : Drouot Presse, 5 janvier 2011, Drouot : Bilan et Tendances 2010.

Send this article to a friend