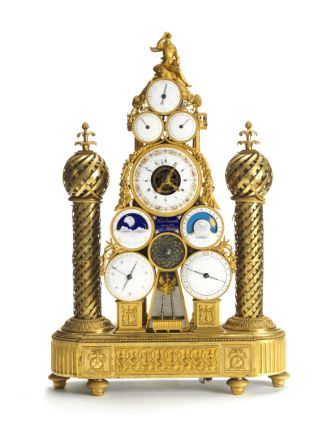 On June 28, Bonhams London organized an auction of pendulums, clock and regulators of great quality. The lot 81 held our attention. It is an important French clock dating from the revolutionary period by François-Joseph Hartmann comprising several dials sold with the buyer premium for the sum of £322 400 (approximately 400.000 Euros).
Let's have a closer look on this clock which will interest clocks lovers as much as the decorative art specialist.
The clock
An ormolu automat clock, the central part including eight dials is surmounted by a victory holding a trumpet. The dials are separated by flowers and fruits. It is flanked of two columns of helicoids forms overcome by a finished bulb and leaves. The oval base presents a rich ornamentation of stylized lotus leaves on the front.
It rests on six small feet spinning tops.
The eight dials include :
-a Republican and Gregorian complete calendar including the seasons.
-the phases of the moon.
-the hour of the rising and laying down sun.
-the equation of time.
-the hour in several world capital.
-the Zodiac signs.
The clock is signed Hartmann and the dials enamels Coteau.
It can be dated circa 1800.
It is rare to find at that time clocks giving the hour to several places of the sphere, 53 in our case, such as San Salvador, Quebec, Mexico City, Goa or Moskou.
This clock belongs to the collections of a European family for more than a century; it was preserved in a wall cupboard to prevent it from damages. The purchase date is unknown, around 1800 or later in the 19th century.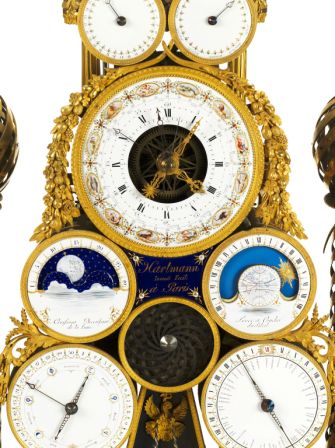 Francois-Joseph Hartmann
Few things are known on the beginnings of our clock and watch maker, Hartmann or Hartemann. According to the clocks that he produced we think that it began its activity at the late 18th century in Paris. During the first third of the 19th century, he is "horloger mécanicien pour l'Observatoire et la Marine". We know several clocks with complications and multiple dials by Hartmann and was therefore a very skilled clock maker. In October 1793, it rented an flat and a shop rue des Viarmes and in 1814 bought the hotel of Italy with its furniture, located rue Saint Eustace for the sum of 9.500 francs.
Our clock maker took part in the second public exhibition of the products of the French industry in 1801. Its clock is recorded among the works exposed under the 63e "portiques", there were 104 of them. It presents a clock with eight dials and received a honourable mention for "une pendule a hit cadrans, d'un travail soigne. Elle marque le lever, le coucher du soleil, les phases de la lune, &c".
Taking into consideration these element, it is doubtless our clock.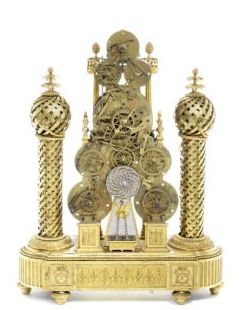 Joseph Coteau
Born in Geneva in 1740, he becomes Master painter-enameller of the Academy of Luc Saint of Geneva in 1766 and settles in Paris a few years later. In 1772, it settles rue Poupée and remains there for the rest of his life in 1801. His name is attached to an enamel technique in relief which he develops with Parpette on some Sevres porcelain in particular the service of toilet of the Tsarina Maria Feodorovna and which he uses thereafter to decorate the enamels dials of clocks.
He remains the most known and most famous of the enamellers of the end of the 18th century and collaborated with the majority of the best clock and watch makers of this time. We frequently find his name painted on the back of the enamelled dials of the pendulums and clocks with multiple dials or complications.
A six figures bid justified for this exceptional clock in its model of a very great originality and a particularly neat mechanism. Also let us underline that this clock was unknown from the market since it was preserved in the same family for more than one century.
Each month, we organise auctions of fine continental furniture, antique clocks and works of art with our network of auctioneers. We invite you to contact us if you wish to include lots in our future sale. Valuations are free for auction.
If you need an appraisal for sale, insurance or inheritance, please contact us.
Cedric Henon, Continental furniture and works of art specialist.
Illustrations : Courtesy of Bonhams, Copyright © 2002-2011 Bonhams 1793 Ltd


Send this article to a friend