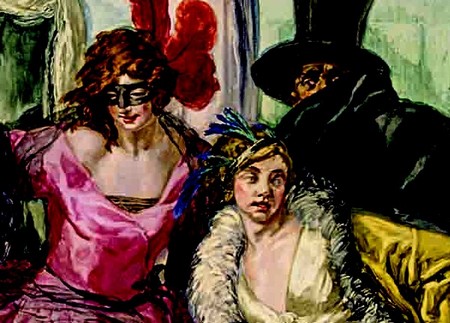 The art history was written without José Maria Sert (1874-1945), quickly forgotten after his death in 1945. Support of the artist to the nationalists and Franco after the Spanish Civil War (1936-1939) has certainly contributed to the ouster as his artistic choices.
José Maria Sert is indeed the heir of classical painting and how to paint from the seventeenth and eighteenth centuries, far from the avant-garde: when, in the Salon d'Automne of 1907, he exhibited his sketches for the decorative program of the cathedral of Vic (Catalonia), Picasso has just completed Les Demoiselles d'Avignon and Matisse to shock the critics at the Salon des Independants with his Nu Bleu. But this is not the ambition of Sert.
It does not seek to revolutionize the paint, but is part of a "return to order" aesthetic and dream of large frescoes dressing churches of Assisi, Rimini, Florence or Pisa. For him, the mural is well above the easel painting.

The public is seduced at the Salon d'Automne. He sees there the renewal of a kind worn by the previous generation such as Puvis de Chavannes and respond to new expectations of Parisian high society. The exhibition at the Petit Palais emphasizes this point, getting rid of the monolithic vision of art history and the dictatorship of the vanguard to open a window on the history of taste of the twentieth new century. It invites us to enter private residences and public spaces that Sert has magnified of its monumental panels.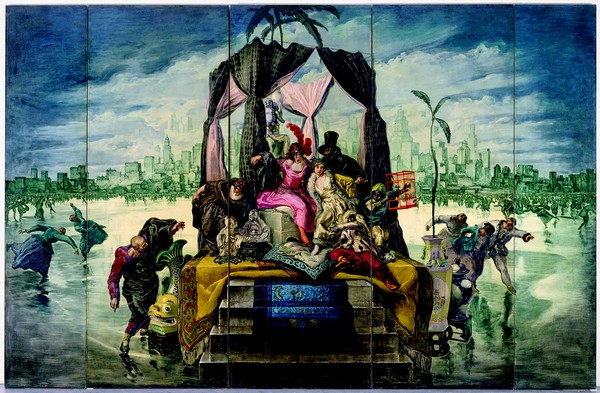 Born in Barcelona in 1874, Sert moved to Paris in 1899 where he joined the intellectual and economic elite, itself being a patron and collector. His relatives are Diaghilev, Chanel, Colette and Picasso, who shared his intimacy with his two wives: Misia and Roussy. It works only for the powerful (the Queen of Spain Alphonso XIII, the Princess Diane de Polignac, Maurice Wendel ...) or for public orders (in Spain or the League of Nations in Geneva), and distinguishes these two worlds plastically: light and festive themes supported by bright colors are specific to private commissions public commissions where depict major themes treated in moral grayness. All his paintings are implemented in his studio in the rue Barbey-de-Jouy (where he worked with four or five assistants) and put in space thanks to models found in the exhibition that illustrates the entire course the method of original works Sert.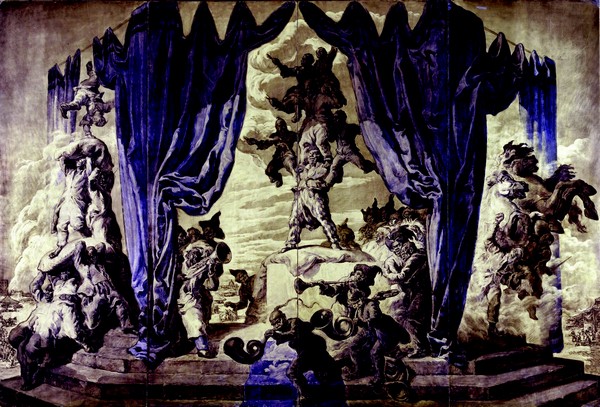 He traded in his study books against a camera, which allows him to create an image library in which he draws endless reasons for arranging his ideas that can be found throughout his baroque compositions: animals, trees, waterfalls, poses the live models and figurines (that allow it to consider more complex positions). He eventually put tile directly to the photographs to reproduce the issue on his canvases. This is from the rediscovery of these photographs in the 1980s by Galerie Michèle Chomette, a real research work was initiated and materialized by this exhibition. To discover as soon as possible!



Stéphanie Pioda
Historienne de l'art et journaliste, co-fondatrice du IAD (International Art Diary)

Informations:
« José Maria Sert, le titan à l'œuvre », jusqu'au 5 août 2012
Petit Palais, Musée des Beaux-Arts de la Ville de Paris
Avenue Winston Churchill
75008 Paris
01 53 43 40 00
www.petitpalais.paris.fr
Open from Tuesday to Sunday from 10h to 18h. Evening opening, Thursday until 20h. Closed on Monday and Bank Holiday.
Illustrations :
1-2 Les quatre saisons © Archivo fotográfico Museo Nacional Centro de Arte Reina Sofía Madrid.
3 Scènes de cirque © Patrimonio nacional - palacio de El Pardo Madrid.

Send this article to a friend