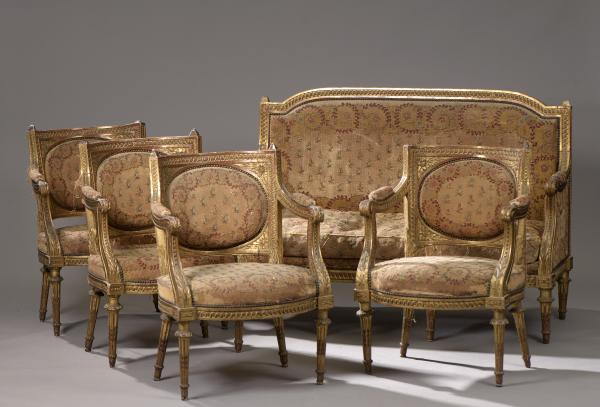 Guillaume Le Floc'h auction house, in Paris and Saint-Cloud, in collaboration with our experts specialized in free valuation and free appraisal will auction a French Louis XVI period giltwood set of armchairs and a sofa by Jean-Baptiste Boulard from the Verteuil castle property of the La Rochefoucault family, Sunday 17th October in Saint-Cloud.
Mobilier de salon en bois mouluré, sculpté et doré (éclats et reprises), à décor sur la ceinture d'une frise d'entrelacs, dés de raccordement rectangulaires à palmette nouée, surmontés de consoles d'accotoirs à feuilles d'acanthe et ruban coupé, reposant sur des pieds fuselés cannelés à rudenture surmontées d'asperges, coiffés d'une bague godronnée. Le dossier rectangulaire en cabriolet à larges fleurons aux angles, feuilles d'acanthe et frises de piastres, à garniture ovale horizontale, sommet de pinacles (accidents et manques, renforts) ; comprenant quatre fauteuils et un canapé à dossier plat.

Estampille sur un fauteuil de Jean-Baptiste Boulard, reçu maître le 17 avril 1755.
Début de l'époque Louis XVI.
Garniture de tapisserie aux petits points (usures)
Fauteuil : Haut. : 76 cm - Larg. : 55 cm - Prof. : 51cm
Canapé : Haut. : 87,5 cm - Larg. : 129 cm - Prof. : 58 cm

Provenance : Duchesse de Richelieu

Notre mobilier de salon peut être rapproché d'un dessin de l'ornemaniste Jean-Charles Delafosse, conservé au Musée des Arts décoratifs, Inv. 8440, figurant plusieurs variantes de fauteuils à la reine. On y retrouve en particulier des pieds similaires, la frise d'entrelacs en ceinture ou encore les encadrements du dossier.
Particulièrement innovants dans leur dessin, nos sièges peuvent être mis en relation avec le mobilier, estampillé Boulard et Bauve qui fut livré pour Marc-René de Voyer de Paulmy d'Argenson, marquis de Voyer, pour le Grand Salon de la Chancellerie d'Orléans à Paris vers 1765-1770, d'après les dessins de Charles de Wailly.
Jean-Baptiste Boulard accède à la maîtrise le 17 avril 1755 et acquière rapidement une grande renommée comptant une riche clientèle privée, en particulier le duc de Choiseul pour le château de Chanteloup, le marquis de Voyer, la duchesse de Mazarin ou le duc de Brissac, mais également royale le duc de Penthièvre et le comte d'Artois. A partir de 1775, il reçoit des commandes des Menus-Plaisirs et dès 1778 devient fournisseur du Garde-Meuble de la Couronne pour les différentes résidences royales ainsi que pour la Reine Marie-Antoinette.
Estimate: 8,000/12,000 euros

Send this article to a friend