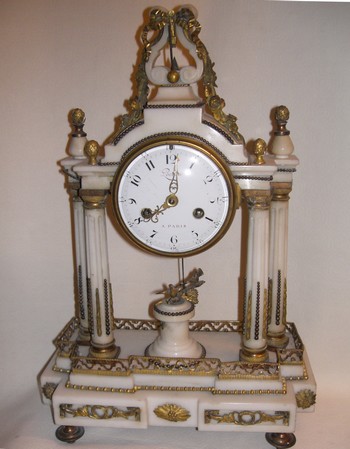 Appreciated by art lovers of the Ancien Regime, sought after by the Emperor Napoleon's generals, the French portico clock is today one of the "must have" for collectors of old clocks.

Véritables hommages à l'architecture de l'Antiquité, les pendules portiques sont apparues au cours du dernier tiers du XVIIIe siècle et demeurèrent populaires jusqu'à la fin de la Restauration.

Chefs-d'œuvre sous influence

Les pendules portiques sont avant tout des pendules « architecturées ». Elles possèdent une base, des montants constitués de colonnes ou de pilastres cannelés, et un entablement, qui ne sont pas sans rappeler ceux des temples gréco-romains.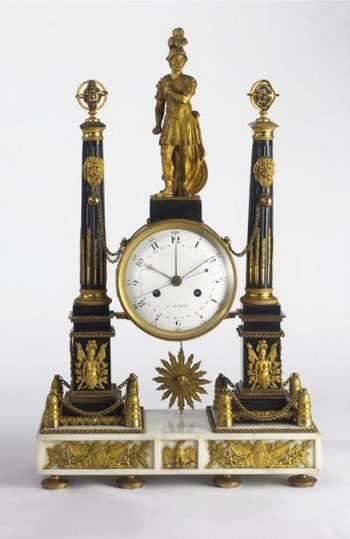 Pendule portique d'époque Louis XVI de très belles dimensions. Elle mesure plus de 90 cm. de hauteur. Copyright Sotheby's

De style néo-classique, elles témoignent du gout que les contemporains de Diderot portèrent notamment aux fouilles archéologiques d'Herculanum et de Pompéi.

Sous le Consulat et l'Empire, ce style néo-classique se mélange à de nouvelles influences stylistiques. Célébrant le retour victorieux de Napoléon d'Egypte, certaines pendules portiques voient leur décor de bronze s'enrichir de motifs inspirés de l'Egypte.

Des modèles sophistiqués

Faites de riches matières, marbre, bronze, plaques en porcelaine de Sèvres ou en Wedgwood, les pendules portiques Louis XVI sont les premières et les plus fastueuses de toutes. Le cadran émaillé est souvent surmonté d'une sculpture en bronze dorée représentant un vase fleuri, un aigle aux ailes déployées, ou une figure mythologique comme Minerve, déesse des Arts et de la guerre.

Les modèles d'époque Empire sont généralement plus sobres dans leur décor et de dimensions moins importantes. Le marbre a pratiquement disparu. Il a laissé sa place au bronze. Le bronzier Thomire excelle dans l'art de jouer sur les mats et les brillants de la matière. L'horloger Lepaute livre à l'empereur pour Fontainebleau de rares pendules à sonnerie marquant les quantièmes du mois, ainsi que les phases et les jours de la Lune.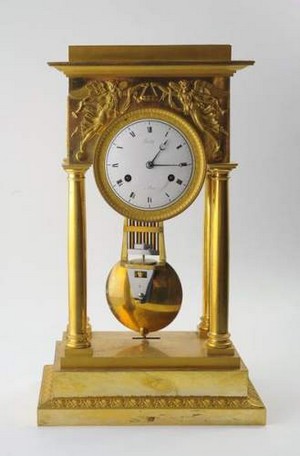 Dans les écoinçons de cette pendule Empire en bronze, se trouvent des figures de Renommées. Courtesy Delorme Collin du Bocage.

Sous la Restauration et notamment sous le règne de Charles X, apparaitront des modèles de pendules portique plus simples réalisées en bois et placage de bois. Livrées à l'origine sous leur cage de verre bombée, elles sont rares aujourd'hui à l'avoir conservé.

Un marché aux prix variés

Le fort ralentissement actuel du marché de l'horlogerie de collection rend les pendules portique accessibles à un grand nombre de collectionneurs. Pour 400 €, il est aujourd'hui possible d'acquérir une très belle pendule datant de la seconde moitié du XIXe siècle en bois de placage à décor d'incrustation de fleurs et de filets.
Il faudra dépenser en moyenne entre 2000 € et 4000 € pour les modèles plus riches en marbre et bronze doré d'époque Louis XVI. Une pendule portique de grandes dimensions, possédant des matériaux rares et variés : marbre blanc et noir, bronzes brillants et mats, plaques de Sèvres, un mouvement d'horloge à complications, et portant la signature d'un célèbre horloger ou bronzier se négociera plus de 20 000 €.


Laurent HACHE
Specialist in furniture and works of art

Feel free to contact our fine art specialists if you want to appraise your works of art. We also assist you in the selling of your works of art : consultancy.





Send this article to a friend