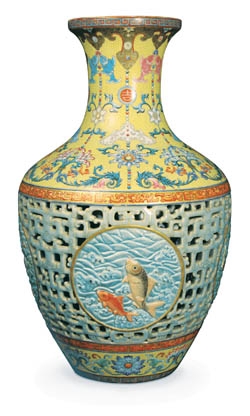 Remember, November 30, 2010, we announced a porcelain vase Qianlong period was within the top 10 of the world's most expensive art pieces with a selling price before buyer premium of £43 M . Rebound, it is only recently that the sale found its final conclusion and the stratospheric price obtained by the porcelain has been lowered.
November 11, 2010, Bainbridges, auction house near London, sold a porcelain vase reticulated double walled for £43 million and had therefore brought a work of art in the top 10 the most expensive world among paintings and sculptures more familiar to this kind of price.
The vase bears a medallion on each side with different fish swimming in imaginery water and on the base is the imperial seal of the Emperor. In view of these factors it is likely that this porcelain was created for the Summer Palace or the Forbidden City.
Probably stolen after the sacking of the Summer Palace by British troops after the Second Opium War in 1860, he finished on top of a wardrobe. (See our newsletter "World record for a Qianlong's vase")
Bidders were numerous and many merchants were active around £25 million.
The vase was ultimately sold to a private buyer from China.
As it sometimes happens, the buyer refused to pay his purchase arguing that the buyer premium was too high.
Despite many efforts, Bainbridges found himself unable to recover its debt with a vase difficult to negotiate with regard to advertising due to its price.
In agreement with the seller, Bainbridges assisted from another auction house began looking for another buyer through a private treaty sale.
It is only very recently that our china vase found a buyer. The the final selling price was not disclosed but rumor speaks of £25 to £30 million, nearly 50% less than the initial hammer price.
A happy ending to an extraordinary object but it also mark the end of a myth, a porcelain among the most expensive works of art in the world. Hopefully this is only a postponement.
To avoid this kind of disappointment, auctioneers, we work with; request from prospective purchasers of this type of work a deposit at least equal to the estimate.
Cédric Henon, fine art specialist

Feel free to contact our fine art specialists if you want to appraise your works of art. We also assist you in the selling of your works of art : consultancy.
© Bainbridges

Send this article to a friend