At the top of the wines of Champagne reigns the "special vintages" of the great Champagne houses. Some of them are symbol historic vineyard, such as the vintage "Winston Churchill" with POL ROGER, which marked the enduring friendship between the Great Man and Odette Pol Roger, started at a lunch around a memorable POL ROGER 1928 shortly after the release.
A part of history
On the same register, we will remember the special order of Tsar Alexander II of Russia that gave birth to the famous crystal bottle with flat cul. Specially designed on the order of Louis Roderer, it was designed to meet the desire of singularity of the monarch and his phobia of poisoning of his favorite beverage or concealment of explosives.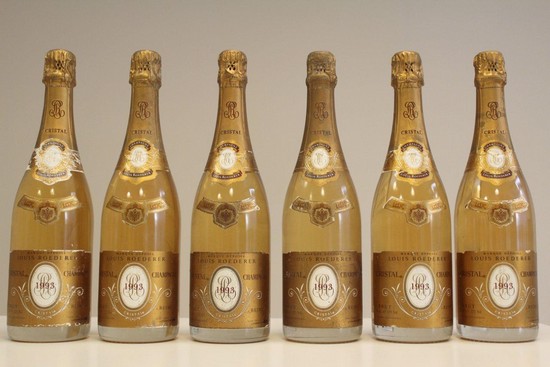 A low maturation
However, the success of these wines "haute couture" is not only in their historical basis or in the work it takes. The treatment of these unique wines from the vineyard to bottling them make some of the great wines of exceptional gifted superb aging potential. They are produced from the best vineyards, the best years only, to the sole discretion of the cellar master, with grapes harvested from a single year, in contrast champagnes "no year" produced by assembling vintage.
Moreover, aging of wines on the lees in the cellar for several years (sometimes more than 10 years for some) will give rise to highly complex aromas and a finesse of bubbles none.
Dom Perignon at the top
Thus it falls to date only 36 vintages of Dom Perignon from the first vintage produced in 1921, sold only in 1935. It is also regarded as the greatest of all time! An auction at Christie's New York in 2004 has sacralized forever this vintage of 1921 by the award of a set of 3 bottles to $ 24 675!
Top years on the market
Today we find on the market special vintages of superb year 2002. Kept generally 6-7 years in a cellar before marketing, the first bottles of this vintage were offered for sale last year from Dom Perignon. Roderer has meanwhile already run out of Cristal 2002 and now offers its 2004 vintage. The grapes of the 2003 vintage were not considered eligible by the winemaker to develop this exceptional vintage.
The best special vintages widely available right now are Bollinger "Grande Année" 2002 (+ / - € 90), Taittinger "Comtes de Champagne" 2000 (+ / - € 90), and Dom Perignon 2002 (+ / - € 120).
Nacim TILOUINE, fine wine specialist.
More:
- Vins et Millésimes, the top wine specialist, http://www.vinsetmillesimes.com/

- Oenoschool , wine tasting courses, http://www.oenoschool.com/

Send this article to a friend