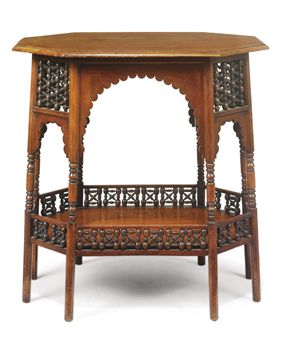 Victorian Furniture can be define as a mix of tradition with many artist revisiting previous styles and revolutionary with many new style such as Art and Craft or Liberty and Co furniture.

Les lignes antiques du style Regency (équivalent anglais de notre style empire) sont maintenant hors mode. Les meubles de la nouvelle mode sont à la fois imposants et tout en courbes avec des angles arrondis. Les décors sont complexes et la sculpture est prédominante. Elle associe fréquemment des motifs et des éléments des styles antérieurs. L'acajou et le palissandre sont les bois les plus employés mais il faut également mentionner le chêne qui est utilisé dans les meubles de style gothique. Le fer fait également son apparition à l'ère victorienne en particulier dans les meubles de chambre.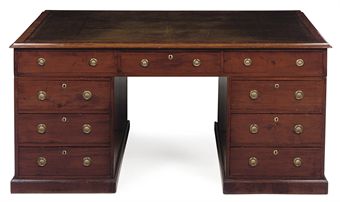 Bureau double face en acajou, vente Christie's South Kensington le 4 aout 2009, lot 6, © Christie's.

Il faut en outre parler de trois styles caractéristiques de cette période :
- le style japonisant
- le style Art and Craft
- le style Liberty and Co.

Les meubles sont plus féminins et délicats, le confort est un facteur important dans la conception des fauteuils, canapés et chaises de salle à manger à l'assise rembourrée. À la fin des années 1880, la production de meubles copiant les styles Chippendale, Tudor et Sheraton est en forte augmentation. Le style Tudor est généralement très sombre et patiné à l'imitation de l'ancien. En ce qui concerne les styles Chippendale et Sheraton, les meubles sont généralement construits selon des normes de haute qualité et copiés par des fabricants bien connus comme Gillows de Lancaster.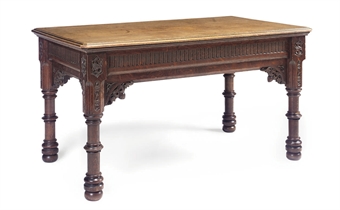 Table de milieu de style gothique en chêne sculpté, vente Christie's South Kensington le 30 mars 2009, lot 668, © Christie's.

Les meubles les plus populaires durant la période victorienne sont :
- les buffets
- les tables de salle à manger équipées de manivelle
- les commodes
- les armoires
- les sièges capitonnés et les fameux canapés Chesterfield en cuir
- les grands bureaux double face
- les tables à jeux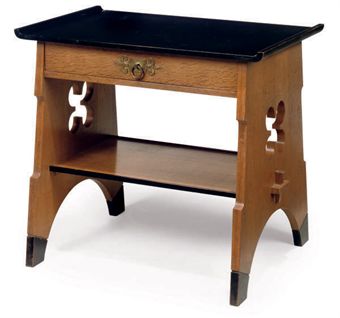 Table en chêne à plateau noirci de style Art and Craft, vente Christie's South Kensington le 6 octobre 2009, lot 255, © Christie's.

En augmentant sa richesse, le Royaume Uni développe sa classe moyenne ce qui entraîne une très forte augmentation de la production de meubles. Les machines sont de plus en plus utilisées pour les décors sculptés, il n'y a pas de production industrielle jusqu'à la fin de l'époque victorienne. Le mobilier victorien reste essentiellement un travail artisanal avec des montages utilisant les queues d'aronde et les montages chevillés.

Ainsi, durant 70 ans un grand nombre de style cohabita montrant la force créatrice des artistes anglais et offrant ainsi un terrain favorable à l'apparition d'un style nouveau à partir de 1901 incarné en Grande Bretagne par Charles Rennie Mackintosh, et Hugh Baillie Scott, l'Art Nouveau.

Cédric Henon, furniture and works of art specialist.

Illustration principale : table en noyer produite par Liberty and Co, circa 1880, vente Christie's South Kensington, le 8 juillet 2009, lot 430, © Christie's.

Feel free to contact our fine art specialists if you want to appraise your works of art. We also assist you in the selling of your works of art : consultancy.





Send this article to a friend