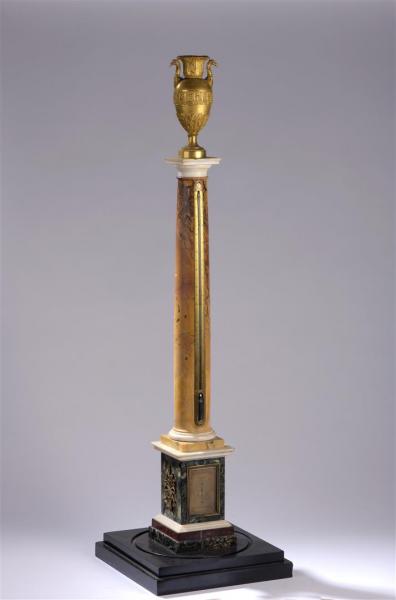 Philocale auction house, in Orleans, in collaboration with our experts specialized in free valuation and free appraisal will sell at auction an Italian early 19th century marble column and ormolu forming barometer and thermometer, Tuesday 30th June in Orleans.
Colonne météorologique en marbre jaune de Sienne affichant un thermomètre sur le fût sommé d'un chapiteau corinthien en marbre blanc surmonté d'un vase balustre à feuilles d'acanthe, palmettes et têtes de griffons. La base en marbre vert des Alpes présente un baromètre gravé par Ferichon ? dans un encadrement de bronze doré à décor de palmettes, les cotés à flèche nouée et branchages fleuris. Contre socle noir probablement rapporté.
Travail probablement italien du début du XIXe siècle
H. 90 L. 26 P. 26 cm.
Égrenures
Note :
L'association de marbres polychromes et de bronzes doré nous incite à rapprocher notre monument de l'œuvre de Giuseppe Valadier, en particulier de plusieurs colonnes coiffées d'un vase conservées au palais de l'Ermitage de Saint-Pétersbourg ainsi qu'au musée national d'archéologie de Madrid.
Provenance : collection Louise Boulanger, modiste à Paris dans les années 30.
Estimate: 4,000/6,000 euros

Send this article to a friend