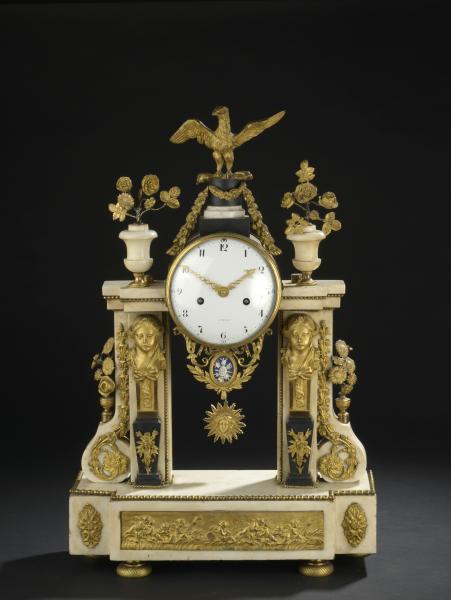 Guillaume Le Floc'h auctioneer in collaboration with our experts specialized in free valuation and free appraisal sold a French late18th century portico clock, on Sunday 11th February in Saint-Cloud.
Importante pendule portique en marbre blanc, éléments de marbre noir et bronze doré. Le cadran, circulaire, en émail blanc à chiffres romains en noir marqué « A Paris », surmonté d'un aigle aux ailes déployées reposant sur un foudre et une guirlande de fleurs, est flanqué de vases fleuris (restaurations et parties rapportées). Les montants, en pilastre ornés de bustes de femme en terme et faisceaux de licteur, reposent sur un entablement rectangulaire à ressaut portant une frise d'enfants jouant dans le goût de Clodion.

Fin du XVIIIème siècle.

(Avec un balancier).

Haut. : 63 cm - Larg. : 41 cm - Prof. : 14,5 cm

Note : une pendule similaire est reproduite dans L'Encyclopédie de la pendule française par Pierre Kjellberg - Ed. de l'Amateur, p 198 fig. E.
Estimate: 3,000/5,000 euros
Sold for 3,100 euros

Send this article to a friend