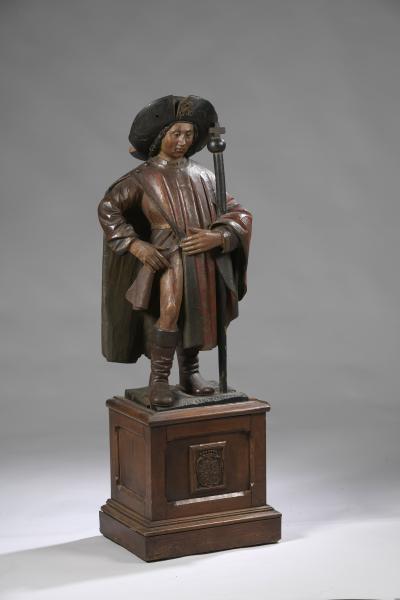 Jean Havin auctioneer in collaboration with our experts specialized in free valuation and free appraisal will auction an antique wooden sculpture of Saint Roch, on Sunday 13th May in Argent-sur-Sauldre.
SAINT ROCH en bois sculpté en ronde-bosse polychrome.
Debout, la jambe droite avancée, il tient un bourdon dans son bras gauche; chaussé de hautes bottes, il est coiffé d'un chapeau au large bord orné de clefs entrecroisées et est revêtu d'une tunique courte et d'un manteau orné de fleurs dont il relève un pan pour découvrir son bubon.
Base en chêne mouluré.
Fin du XVIIème -début du XVIIIème siècle.
H : 88 L : 40 P : 22 cm.
(reprise à la polychromie, accidents, fentes et manques).
Estimate: 2,000/2,200 euros

Send this article to a friend