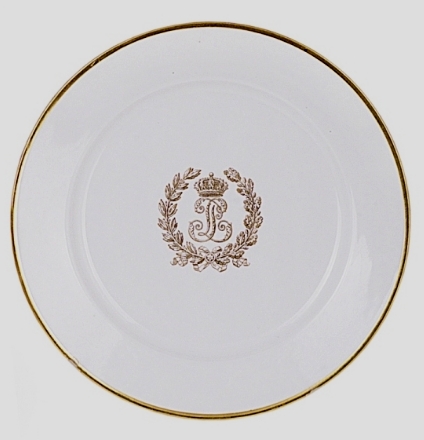 Marylou Combalier auctioneer in collaboration with our experts specialized in free valuation and free appraisal will sell a set of Sevres porcelain plates from the Louis-Philippe service des Officiers with marks from the Tuileries, Fontainebleau and Saint-Cloud, on Sunday 10th March in Montauban.
Sèvres. Service des Officiers.

Ensemble de dix assiettes plates en porcelaine blanche à décor du chiffre couronné du roi Louis-Philippe dans une couronne de feuilles de chêne et de laurier en lettres d'or, sept assiettes 1845 et 1846 portant le cachet du château des Tuileries, deux assiettes 1846 portant le cachet de l'Intendance Générale, une assiette 1846 portant le cachet du château de Fontainebleau.
Diam. : 24 cm.
On joint une assiette non datée portant le cachet du château de Saint-Cloud (éclats).
Estimate: 1,000/1,500 euros

Send this article to a friend