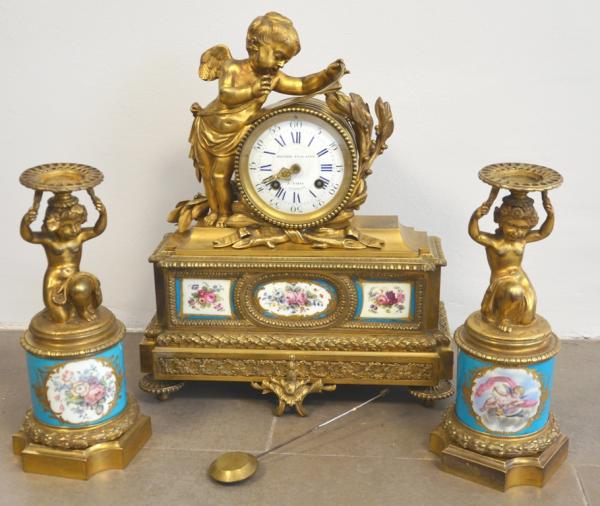 Sophie Himbaut auction house, in Orleans, in collaboration with our experts specialized in free valuation and free appraisal will auction a Naspoleon III Louis XVI style ormolu and porcelian clock signed Monbro and its pair of candlesticks, Friday 16th October in Aix-en-Provence.
Georges Alphonse Monbro (1807 - 1884)
Garniture de cheminée en bronze ciselé et doré et plaque de porcelaine de Sèvres polychrome à décor de fleurs sur fond turquoise, figurant un ange lisant sur la pendule et deux putti à croupi sur les candélabres.
Cadran émaillé blanc indiquant les heures en chiffres romains en bleu et les minutes en chiffres arabes en noir, signé Monbro Fils Ainé à Paris, Jacquier Héritier.
Vendue par les Etablissement Monbro fils à Paris, spécialisés dans la vente de mobilier décoratif.
Remontage à clefs.
Style Louis XVI, époque Napoléon III.
42 x 34 x 15 cm pour la pendule et H.: 28 cm pour les candélabres.
Estimate: 1,500/2,500 euros

Send this article to a friend