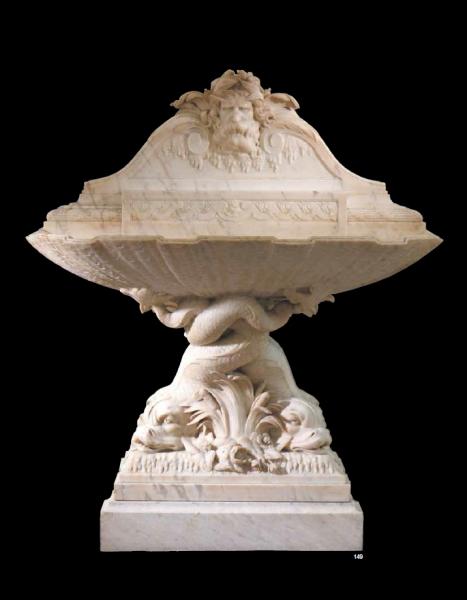 Guillaume Le Floc'h auctioneer in collaboration with our experts specialized in free valuation and free appraisal sold an important marble fountain signed Rozet, on Sunday 8th October in Saint-Cloud.
ROZET René (Paris, 1858 - Paris, 1939).
Vasque de Neptune.
Exceptionnelle vasque d'applique en marbre de Carrare blanc veiné, mouluré et sculpté, reposant sur une base rectangulaire à décor de gouttes portant en son centre des ajoncs et roseaux qu'encadrent deux animaux marins fantastiques dont les queues s'enlacent pour supporter la vasque en forme de coquille. Le dosseret à décor d'une frise de poste est sommé d'un fort masque de Neptune.
Quelques accidents, taches, légère restauration à la base.
Signée et datée en creux R. ROZET, 94.
Contre socle (rapporté) à l'imitation du marbre (accidents et manques).
Haut. : 175 cm – Larg. : 135 cm – Prof. : 70 cm

Provenance :
Hôtel Singer, Maison des Anciens Elèves des Arts et Métiers depuis 1920.

Notre vasque d'applique simulant une fontaine signée René Rozet peut être rapprochée d'un dessin préparatoire exécuté par l'architecte Gabriel-Hippolyte Destailleur, pour le grand hall de l'hôtel d'Albert de Rothschild, situé au 24-26 Heugasse à Vienne, construit en 1876. Le dessin, portant la mention Neptune, ne fut finalement pas retenu pour l'hôtel viennois.
Rozet et Destailleur travaillèrent pour les Rothschild ainsi que pour un très grand nombre d'hôtels parisiens de la fin du XIXe siècle. Il est vraisemblable que Rozet se soit inspiré du projet de Destailleur pour réaliser notre vasque et l'ait adapté au goût de ses commanditaires.
Il faut souligner la rareté des vasques et fontaines d'applique représentant Neptune ce qui justifie pleinement notre rapprochement.

Rozet René (Paris, 1858 – Paris, 1939), élève de Pierre-Jules Cavelier (1814-1894) et d'Aimé Millet (1819-1891), il se fait connaître lors du Salon de 1875 et en deviendra membre sociétaire hors concours. Son œuvre est récompensée d'une médaille d'or en 1927. Il s'intéresse aux matériaux nobles comme l'argent, le bronze ou le marbre, à l'instar de sa fille et élève, Fanny Rozet.
Estimate: 15,000/20,000 euros
Sold for 45,000 euros

Send this article to a friend