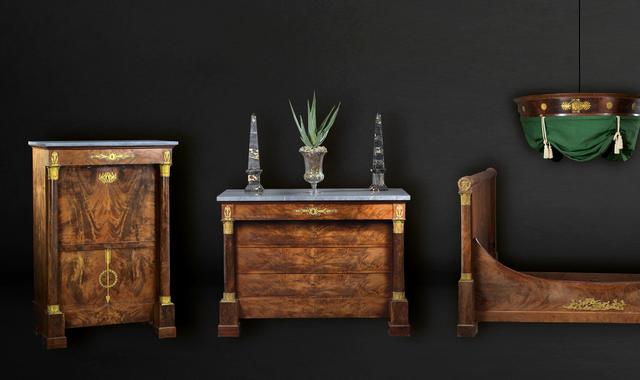 Sequana auctioneer in collaboration with our experts specialized in free valuation and free appraisal will auction a mahogany and ormolu Empire furniture set including, a chest of drawers, a drop front desk and a bed with its ceiling, on Saturday 9th June in Rouen.
Mobilier de chambre à coucher
en acajou mouluré et placage d'acajou à montants à colonnes détachées baguées d'une frise de feuilles d'eau et coiffées d'un chapiteau corinthien à décor de palmettes, feuilles de refend et rinceaux, surmonté d'un putto au cygne, comprenant :
- Une commode ouvrant par quatre tiroirs sur quatre rangs, les serrures à double canons l'entrée de serrure du tiroir supérieur présente un décor de fins rinceaux. Plateau de marbre bleu turquin. Epoque Empire H_96 cm – L_130 cm – P_65 cm
- Un secrétaire en armoire à l'anglaise à serrure à double canons ouvrant par deux vantaux présentant une flèche cerclée d'un branchage de laurier découvrant trois tiroirs sur trois rangs, un abattant, à entrée de serrure portant des griffons affrontés et rinceaux, foncé de cuir vert dissimulant un intérieur aménagé comprenant une niche et six tiroirs dont deux secrets, et un tiroir en partie supérieur dont l'entrée de serrure présente un décor de fins rinceaux. Plateau de marbre bleu turquin. Epoque Empire H_142 cm – L_98 cm – H_47,5 cm
- Un lit en bateau à deux chevets égaux, le flanc orné du char d'apollon dans une nuée tiré par des abeilles. Composé d'éléments anciens H_116 cm – L_205 cm – l_155 cm On y joint un ciel de lit circulaire en placage d'acajou orné de fleurons et masque en bronze doré.
Provenance : Roi Jérôme de Westphalie d'après la tradition familiale.
Note : Notre mobilier peut être rapproché des productions de Jacob Desmalter et de Bernard Molitor.
(pour l'ensemble : fentes, légers accidents et manques)
Estimate: 10,000/15,000 euros

Send this article to a friend