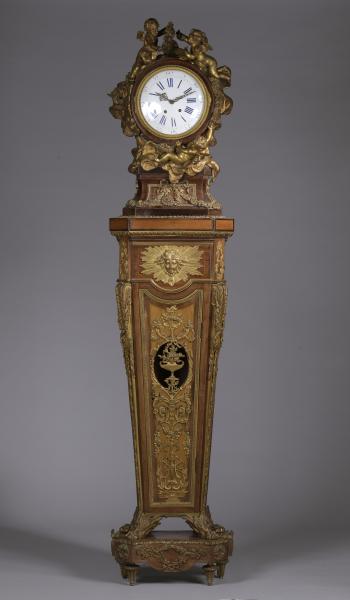 Jean Havin auctioneer in collaboration with our experts specialized in free valuation and free appraisal will auction a rare Louis XVI style clock after Riesener in ormolu and parquetry, the original is in the Louvre museum, on Sunday 13th May in Argent-sur-Sauldre.
REGULATEUR DE PARQUET en placage de citronnier sur des contre-fonds d'amarante, dans des encadrements à double filet de buis ou d'ébène. Le cadran émaillé blanc à chiffres arabes et romains bleus et noir. Riche ornementation de bronzes ciselés, à décor, à l'amortissement, de trois enfants dans des nuées, jouant avec une guirlande de roses, encadrements à feuilles d'acanthe, guirlandes
et feuillages. La porte centrale, présente un vase à l'Antique, dans des encadrements à cornes d'abondance stylisées, brandons,
couronnes, rinceaux et attributs de la Musique. Il repose sur des pieds griffes à contre socle à pieds toupies.
Style Louis XVI.
H. 225, L. 52, P. 30 cm.
(Légers manques au placage).

Note :
Notre régulateur de parquet reprend un modèle attribué à Jean-Henri Riesener, ébéniste de la reine Marie-Antoinette exécuté en
1785 et qui figura dans le Cabinet de travail de l'Impératrice Eugénie au Palais des Tuileries et est conservé du musée du
Louvre. Plusieurs régulateurs reprenant l'originale sont répertoriés : signé François Linke ainsi que la maison Grohé qui en modifia le modèle pour y incorporer un baromètre.

Bibliographie :
D. Alcouffe, A. Dion-Tenenbaum et A. Lefébure, Le mobilier du musée du Louvre, Tome 1, Editions Faton, Dijon, 1993, p.287, catalogue n°96
Estimate: 6,000/8,000 euros

Send this article to a friend