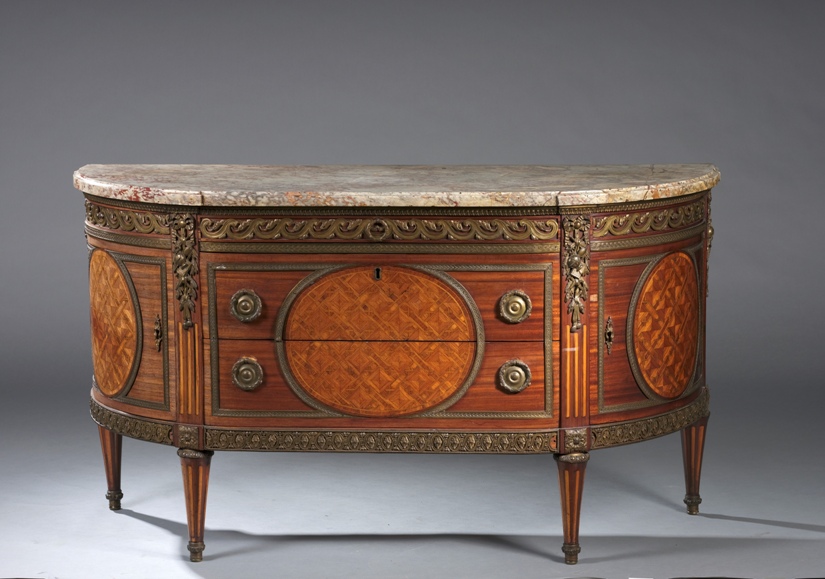 Guillaume Le Floc'h auctioneer, in Paris and Saint-Cloud, in collaboration with our experts specialized in free valuation and free appraisal will auction a French Louis XVI period marquetry and parquetry demi-lune commode stamped Stockel, cabinet maker of the Comte de Provence, Sunday 13th October in Saint-Coud.
Commode de forme demi-lune en placage de satiné marqueté de cubes dans des médaillons (accidents, manques, fentes et soulèvements) ouvrant en façade par deux tiroirs sans traverse et un tiroir en ceinture et par deux vantaux latéraux. Les montants en léger ressaut, à décor de cannelures simulées, reposent sur des pieds fuselés. Elle présente une riche et importante garniture de bronze ciselé et doré (rapportée, usures) telle que frise de postes, rais de cœur, chutes à l'allégorie des arts, entrées de serrure, frise d'entrelacs fleuronnés, fleurons, bagues, sabots et baguettes d'encadrement.

Estampille de Joseph Stockel, reçu Maître en 1775 et poinçon de jurande.

Époque Louis XVI.

Important plateau de marbre de Sarrancolin.

Elle présente un numéro d'inventaire à l'encre : m. t. 142.

Haut. : 93 cm – Larg. : 166 cm – Prof. : 64 cm



Notre commode est caractéristique des commodes demi-lune exécutées par Stockel et doit être rapprochée de celle conservée au Victoria & Albert Museum, don Chester Beaty, inv. W.22:1 to 3-1958.

Principalement connu pour ses meubles en acajou, Stockel produisit également de nombreux meubles marquetés dont plusieurs bureaux à cylindre, certains à décor de ruines, fort populaires entre 1770 et 1780.



Joseph Stockel, reçu Maître en 1775, est connu dès 1769 rue de Charenton. Il livra plusieurs meubles au Comte de Provence.



Send this article to a friend