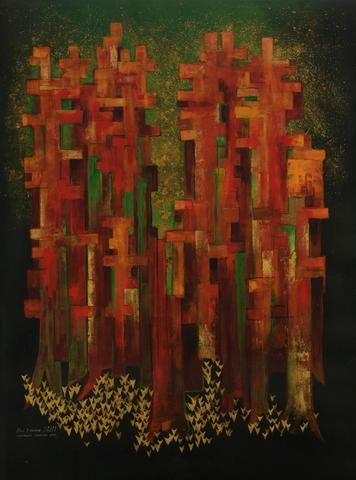 Sequana auctioneer in collaboration with our experts specialized in free valuation and free appraisal will auction a lacquer panel signed Paul Etienne Sain, on Saturday 9th June in Rouen.
Paul-Etienne SAIN (1904-1995)
"Brocéliande aux jonquilles"
Panneau de laque signé en bas à gauche et titré sur une étiquette au dos
H_120 cm - L_90 cm
Provenance : Jacques Boyer Décorateur, Paris VIIIème
Exposition : Paul-Etienne Saïn. Laqueur statuaire. Association Campredon Art et Culture, L'Isle-sur-la-Sorgue, avril-juin 1986
Elève à l'Ecole Nationale Supérieure des Beaux-Arts, Paul-Etienne Saïn entre dans l'Atelier de Landowski comme élève sculpteur statuaire. C'est fortuitement qu'il se lance dans l'art de la laque qui occupera les soixante prochaines années de sa vie. Dès les années 1925, extraordinairement riches sur la plan de la création, il collabore avec les plus grands décorateurs et créateurs de l'époque : Paul Follot, Jacques-Emile Ruhlmann, Eugène Printz, Jacques Adnet, Jules Leleu, mêlant dans ses créations, laque, feuille d'or et d'argent, palladium. C'est l'époque du paquebot « Normandie », chef d'œuvre de l'Art Deco auquel il va contribuer en fournissant un décor mural à 24 cabines, à un appartement de luxe, ainsi qu'un ensemble de panneaux de laque. Ce chantier sera suivi d'une vingtaine d'autres navires prestigieux et d'hydravions. Son dernier travail important est le décor laqué de la salle à manger du « France », scènes sur les « Joies de la vie » dans un monumental format de 2,80 m x 100 m.
Estimate: 1,000/1,500 euros

Send this article to a friend