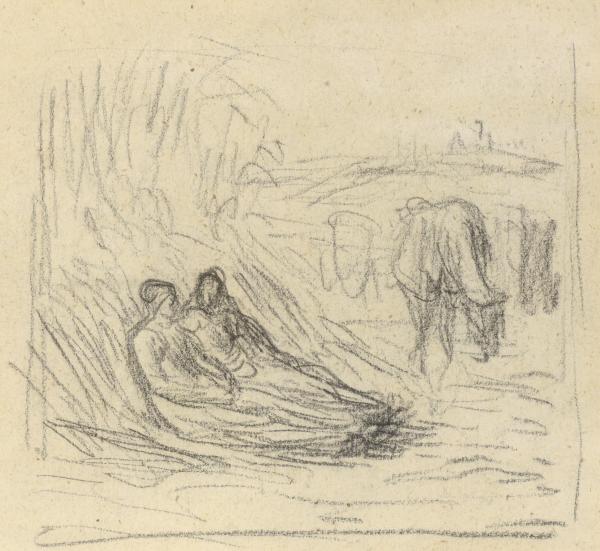 Guillaume Le Floc'h auctioneer in collaboration with our experts specialized in free valuation and free appraisal will auction a drawing by Jean Francois Millet, on Sunday 8th October in Saint-Cloud.
Jean-François MILLET (Gréville-Hague, 1814 - Barbizon, 1875).
Bergère assise.
Fusain portant le cachet du monogramme en bas vers la droite (déchirure au papier en bas à gauche restaurée, taches, petit manque au papier dans l'angle supérieur gauche).
Haut. : 28,5 cm - Larg. : 19 cm.

Au dos : le repos ou deux silhouettes allongées et bétail broutant.
Fusain.
Haut. : 15 cm - Larg. : 16,5 cm

Provenance:
Vente Briest, 21 mars 1990, Drouot, Paris, salles 5&6, n°29.

Le dessin de face peut être rapproché de :
- Repos de la bergère (huile sur panneau, 38,1 cm x 28,7 cm), n°37 "J.-F. Millet : a loan in aid of the National Library for the blind", Denys Sutton, Wildenstein, 1969.
- Bergère près d'un bois, (gravé par Laguillermie, 38x28 cm), XLIX, "recueil d'estampes gravées à l'eau-forte", préface d'Armand Silvestre, Paris-Londres-Bruxelles, Maison Durand-Ruel, 1873-1875.
Estimate: 8,000/12,000 euros

Send this article to a friend