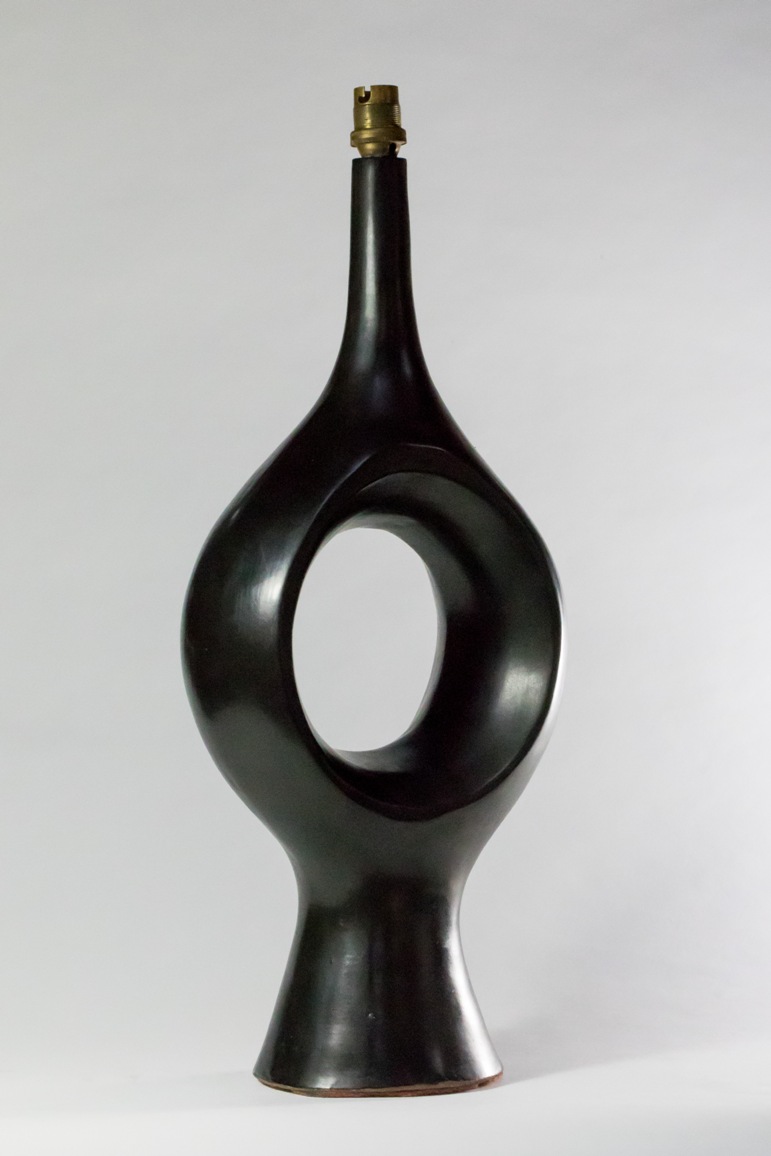 Antonietti - Jourdan auctioneer, in Nantes, in collaboration with our experts specialized in free valuation and free appraisal will auction a Georges Jouve lamp, Wednesday 3rd June in Nantes.
Pied de lampe sculptural de forme libre à haut col tubulaire, en faïence émaillée noire lustrée. Marque Apollon incisée au revers.
Vers 1950.
Haut. : 49 cm

Provenance : collection particulière.

Une lampe similaire vendu par l'étude TAJAN le 25 novembre 2008 sous le numéro 38.

C'est à Paris dans les années 1930 à l'école Boulle que Georges Jouve se forme à la sculpture, il y gagne le surnom d'Apollon qui le suivra tout au long de sa carrière. Après des débuts comme décorateur de théâtre, que Georges Jouve découvre l'art de la céramique.
Prisonnier dès le début de la Seconde Guerre mondiale il s'évade et trouve refuge à Dieulefit. C'est là, chez le céramiste Etienne Noël qu'il découvre l'art du feu. Sa formation de sculpteur classique est alors omniprésente et il produit des statuettes principalement religieuses. A la Libération Jouve rentre à Paris et établit son atelier rue de la Tombe-Issoire.
A Paris, ses créations s'éloignent de l'art traditionnel pour se conformer davantage à l'esthétique des années 1940.
L'emploi de lignes pures et d'un émail noir de cuivre à l'aspect satiné pour notre lampe sont caractéristiques de cette nouvelle esthétique de Georges Jouve. En signant du sigle d'Apollon, Georges Jouve est plus qu'un céramiste, il est aussi sculpteur. Sa lampe n'est plus un objet seulement utilitaire mais une oeuvre d'art, source de beauté lumineuse du quotidien qui s'oppose au noir intense, sa couleur de prédilection.
Travailleur infatigable, le céramiste est de toutes les expositions, de Rio à Rome ; à Paris il collabore avec Jacques Adnet et Mathieu Matégot. Il devient le céramiste emblématique des années 50.
Atteint de saturnisme, Jouve part se réfugier chez le couple de collectionneurs Jeanne et Norbert Pierlot au château de Railly, et en 1954 il quitte Paris pour la Région Aixoise.
En 1965, un an après sa mort, la galerie La Demeure organise une grande rétrospective « hommage à Jouve, 20 ans de céramique ».
Estimate: 3,000/5,000 euros

Send this article to a friend