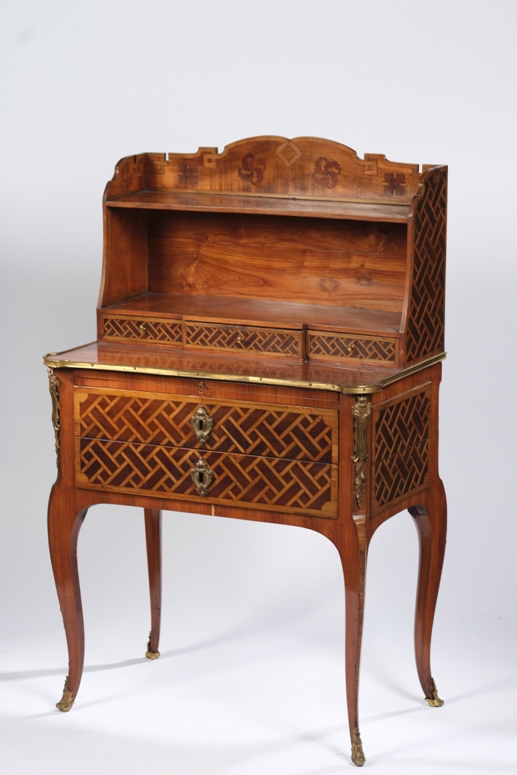 Guillaume Le Floc'h auctioneer, in Paris and Saint-Cloud, in collaboration with our experts specialized in free valuation and free appraisal will auction a French Transition Louis XV Louis XVI marquetry bonheur du jour, stamped RVLC, Sunday 13th October in Saint-Coud.
Bonheur du jour en placage de bois de rose. La partie basse à deux tiroirs et une tirette-écritoire repose sur quatre pieds cambrés à côtes pincées chanfreinées. Le haut gradin marqueté de rosaces tournantes est découpé d'encoches et accolades et présente une large niche amortie par trois petits tiroirs. Les côtés et la façade des tiroirs sont marquetés de bâtons rompus, les panneaux inférieurs en léger ressaut (fentes et restaurations à la marqueterie).

Estampille de RVLC, Roger Vandercruse dit Lacroix, reçu Maître le 6 février 1755 et poinçon de jurande.

Transition des époques Louis XV et Louis XVI.

Haut. : 112 cm – Larg. : 71 cm – Prof. : 41 cm

Notre meuble est caractéristique de la manière de RVLC, en particulier sa marqueterie de bâtons rompus et ses rosaces.

Beau-frère de Jean-François Oeben et de Jean-Henri Riesener, Roger Vandercruse fait partie des grands représentants du style Transition. Sa clientèle fut des plus brillante et compta le duc d'Orléans et Madame du Barry. Il livra plusieurs meubles pour le Garde-Meuble royal par l'intermédiaire de Gilles Joubert.

Send this article to a friend