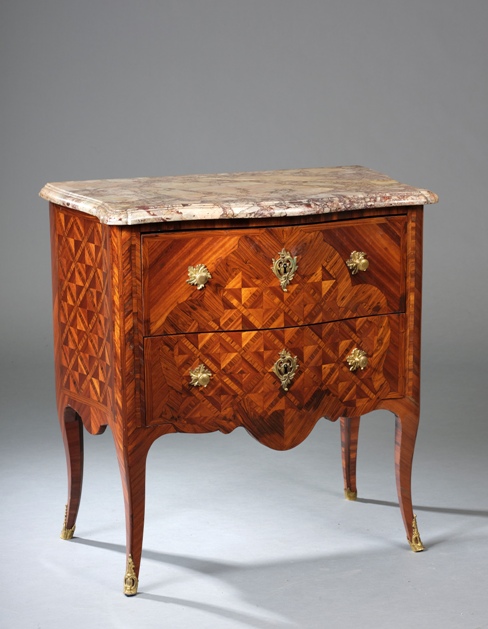 Guillaume Le Floc'h auctioneer, in Paris and Saint-Cloud, in collaboration with our experts specialized in free valuation and free appraisal will auction a French Royal Louis XV period marquetry and parquetry commode by Mondon, delivred by Gaudreau to the chateau of Choisy,, Sunday 13th October in Saint-Coud.
Commode galbée à deux tiroirs sans traverse entre des montants arrondis et reposant sur quatre pieds cambrés. Elle est marquetée de croisillons et de pyramides dans un entourage contourné de bois de violette, les contrefonds en satiné (restaurations). Sabots, entrées de serrure et boutons de tirage en bronze ciselé et redoré.
Plateau de marbre d'Antin.
Estampille de François Mondon, reçu Maître avant 1736.
Numéro d'inventaire à l'encre sur le bâti et sur le marbre : 1272 CH.
Époque Louis XV.
Haut. : 82 cm – Larg. : 81 cm – Prof. : 47 cm

Provenance :
Livrée le 9 novembre 1741 par Antoine-Robert Gaudreau pour le cabinet du nouvel appartement de Mademoiselle de Charolais au Château de Choisy.

Bibliographie :
Journal du Garde-Meuble, Archives Nationales, O1 3312.

Nous remercions Madame Andrea Gilbert, Bibliothécaire de la Wallace collection pour son assistance dans nos recherches.

François Mondon (1694-1770) livra plusieurs commodes pour le Garde-Meuble de la Couronne par l'intermédiaire de Gaudreaus, en particulier trois commodes pour Marly.

Antoine-Robert Gaudreau (vers 1682-1746), est fournisseur attitré du Garde-Meuble de la Couronne à partir de 1726 et jusqu'à 1751. D'âge mûr lorsqu'il commença à travailler pour la Couronne, il fit largement appel à la sous-traitance, ce qui est le cas de notre commode.

Le château de Choisy est acheté en 1739 par Louis XV aux héritiers de la princesse douairière de Conti pour 300 000 livres. Le roi s'attache particulièrement à cette demeure et de 1739 à 1758, de nombreux embellissements et agrandissements sont entrepris par Jacques-Ange Gabriel. Délaissé par Louis XVI, il est démeublé dès 1787 et sera détruit en 1839.

Louise-Anne de Bourbon (1695-1758) dite Mademoiselle de Charolais et parfois Mademoiselle de Sens, est la fille de Louis III de Bourbon, prince de Condé, et de Louise-Françoise de Bourbon, fille de Louis XIV et de Madame de Montespan. Elle porta le titre de Mademoiselle en l'absence de fille chez le Duc d'Orléans à l'exception des années 1726 à 1728.

Send this article to a friend